Lagos State invests in future growth with LACE project, compensates traditional landowners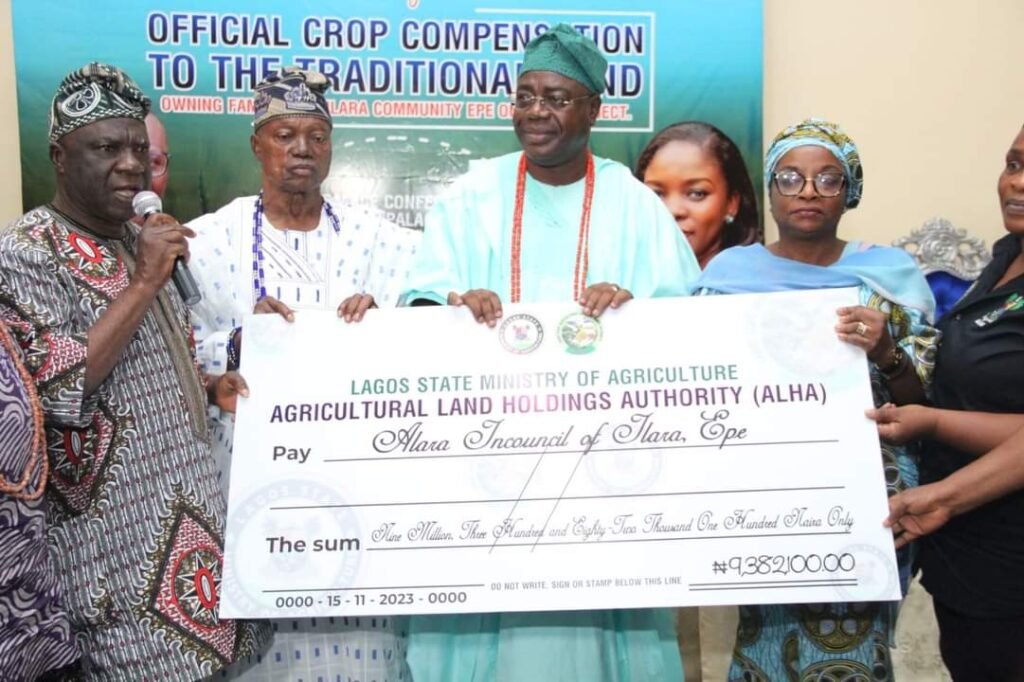 In a significant move towards bolstering economic development and job creation, the Lagos State Government has disbursed a sum of N16,382,100:00 as compensation to traditional land-owning families.
The compensation is for the acquisition of 35 hectares of land earmarked for the Lagos Aquaculture Centre of Excellence (LACE) project in Eredo LCDA, Epe.
The payment ceremony, held at the Palace of Alara of Ilara Kingdom in Epe, marked the commencement of Project 'LACE,' a Public Private Partnership between the State Government and Messrs Dula Agro Services Limited.
The ambitious venture aims to create jobs for the youth, stimulate economic activities, and anchor the growth and development of the value chain in the State.
Commissioner for Agriculture, Ms. Abisola Olusanya, highlighted the project's importance, emphasizing its alignment with the THEMES Plus Agenda and the Five-Year Agricultural and Food Systems Roadmap. Represented by the Permanent Secretary in the Ministry, Mrs. Olatokunbo Emokpae, Olusanya expressed the government's commitment to fostering a thriving agricultural sector through private sector investments and partnerships.
The compensation package includes N7,000,000.00 as Crop Compensation for the 35 hectares of Agricultural Land and N9,382,100.00 as the replacement cost of the uncompleted Town Hall project on the site. Olusanya underlined the cooperative spirit between the State Government and traditional landowners, thanking the community for their collaboration in making the LACE project a reality.
Acting General Manager of the Agricultural Land Holdings Authority, Engr. Samiat Raji, reiterated the agency's commitment to making agricultural land accessible to all, regardless of socio-cultural backgrounds.
Raji emphasized the focus on activities such as land documentation, delineation based on entrepreneurship, and revenue generation for the State.
HRM, Oba Olufolarin Olukayode Ogunsanwo, Alara of Ilara Kingdom, acknowledged the Lagos State Government's compensation for the LACE project in Epe.
He applauded the financial support as a testament to the progress and commitment of the State Government to galvanize aquaculture in the Epe Community.
The event symbolized a successful synergy between the government and traditional landowners, showcasing what can be achieved when communities and authorities work together for the common good.