President Barrow's diplomatic triumph in Saudi Arabia marred by criticisms at home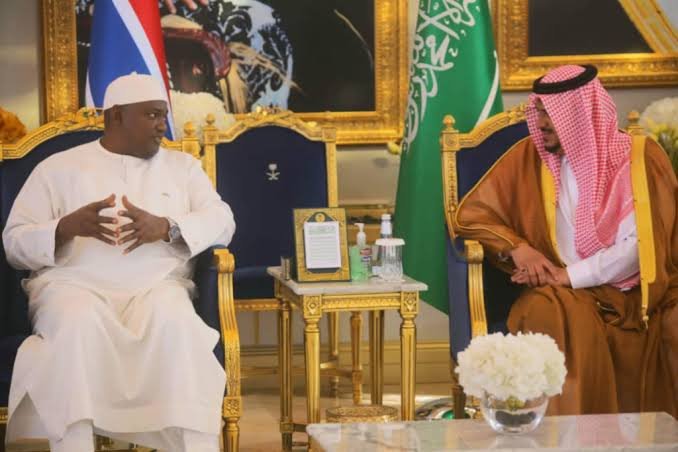 In a recent Facebook announcement, the President of Gambia, Barrow PORG, declared his official visit to the Kingdom of Saudi Arabia a resounding success.
The president highlighted his participation in two summits, where he engaged with high-ranking Saudi authorities and heads of organizations, emphasizing the mission's objective to strengthen diplomatic ties for the greater development of Gambia, often referred to as the Smiling Coast of Africa.
President Barrow joyfully shared that, in addition to the diplomatic engagements, he and his delegation had the unique opportunity to perform Umrah, a significant Islamic pilgrimage.
Expressing gratitude for the overall outcome of the summit, he revealed praying for the realization of discussed plans aimed at advancing the development of The Gambia.
However, the President's social media post was met with a mixture of emotions, primarily from Gambian nationals. Sher Dabo criticized the President for alleged neglect of citizens, stating, "Your people are dying in the water to run away from the poverty you trap them in."
Dabo accused Barrow of prioritizing political ambitions over the welfare of the Gambian people.
Osman Manneh questioned the sincerity of the Umrah pilgrimage, suggesting that it should be reserved for those with "halal money" and not for leaders taking loans on behalf of taxpayers.
He argued that such actions lead to the suffering of citizens who bear the burden of repaying these loans.
Fabura Csay accused President Barrow of deceit, stating, "What a game, I can cheat my people and Allah for forgiveness."
Csay expressed skepticism about the President's intentions, asserting that forgiveness cannot be obtained until those who feel wronged have granted it.
Sanusi Camara questioned the divine reception of President Barrow's prayers, expressing doubt that God would answer. Camara appealed to Allah to accept the prayers of the oppressed and the poor.
Amidst the criticisms, Morro J offered a more positive note, wishing that Allah would answer President Barrow's prayers and help in achieving the set goals for the development of The Gambia.
The president's diplomatic success appears to be overshadowed by the divided sentiments of the Gambian public.