El-Rufai praises Obasanjo, describes ex-president's 2nd term as Nigeria's economic golden era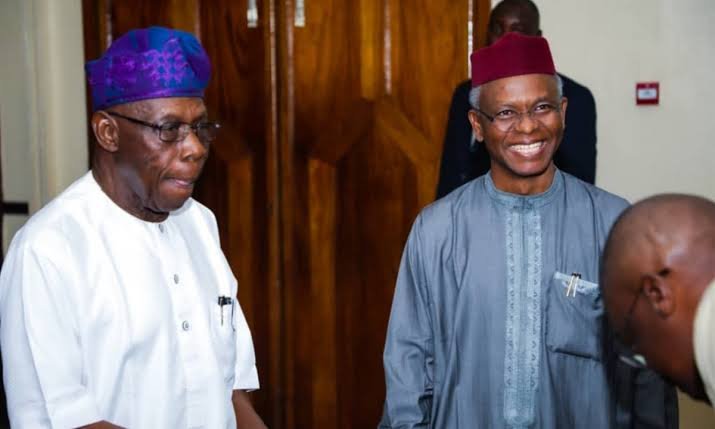 In a candid and insightful session at the Africa In the World conference, Nasir el-Rufai, the former governor of Kaduna state, hailed the second term of former President Olusegun Obasanjo as the "most successful" period in Nigeria's history in terms of economic growth, job creation, and inflation rate.
el-Rufai's remarks shed light on the economic trajectory of Nigeria during the years 2003 to 2007.
During his address on Friday, el-Rufai pointed out that the second term of President Obasanjo, spanning from 2003 to 2007, witnessed remarkable economic progress that had a lasting impact on the nation.
He emphasised that this period marked the resurgence of integrated planning and prudent financial management.
"In terms of economic growth, job creation, and reduced inflation, the second term of President Obasanjo in 2003 to 2007 was the most successful," el-Rufai stated.
"Oil prices began to rise, but we did not waste the windfall because we had planned. We had an excess crude account (ECA) that was based on fiscal rule, ensuring that any surpluses above a certain benchmark price of crude oil would go to that savings account. With that, we were able to get rid of all our foreign debt."
el-Rufai went on to emphasise the sound fiscal health of Nigeria in 2007, noting that when the global financial crisis hit in 2008, the country remained resilient.
"Nothing was felt in Nigeria because Nigeria had a big savings account; we had huge reserves, and we were able to absorb the shock without any internal problems, unlike most countries," he remarked.
The former governor's remarks have sparked discussions and reflections on Nigeria's economic history, highlighting the importance of integrated planning and fiscal prudence in achieving sustained growth and resilience in the face of global economic challenges.
el-Rufai's insights serve as a reminder of the potential for long-term economic success when governments prioritise financial stability and responsible management of resources.
The second term of President Obasanjo, as described by el-Rufai, continues to be a benchmark for Nigeria's economic aspirations.