GOC 82 Div NA charges troops to uphold professional ethics, loyalty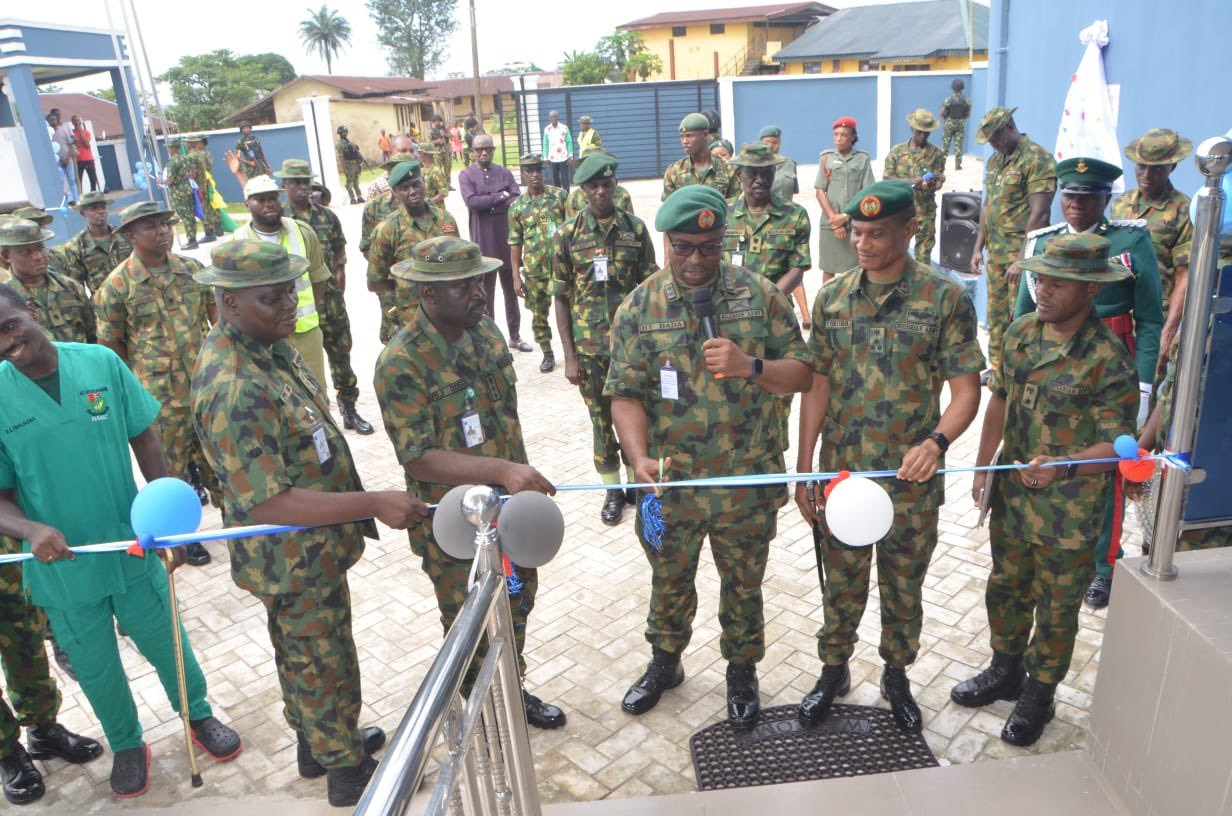 Maj Gen Hassan Taiwo, the General Commanding Officer (GOC) 82 Division Nigerian Army has summoned officers and soldiers of 13 Brigade Nigerian Army and charged them with firm loyalty and professional ethics in duty discharge.
The GOC made this known during his operational visit to Akim Barracks in Calabar, Cross Rivers state on September 6, 2023.
In his address speech, Maj Gen Taiwo enjoined the troops to carry out their duties with commitment and dedication in order to provide an enabling environment that is crime-free.
On behalf of the Chief of Army Staff, Lieut Gen Taoreed Lagbaja, the GOC commissioned for public use the newly remodeled 13 Brigade Medical Center, fitted with state of the art medical equipment and 12 Blocks of Flats for Corporal Below Quarters.
Furthermore, he reiterated the efficient utilization and management of the new building.
Brig Gen Everest Ifeanyi Okoro, the Commander 13 Brigade extended his appreciation to the Chief of Army Staff (COAS) for the projects.
In addition, he was specially thanked for giving his approval for the commissioning of the newly remodeled and equipped 13 Brigade Medical Centre and the Corporal Below Quarters by the General Officer Commanding 82 Division Nigerian Army.
In a similar development, the GOC also commissioned 2 blocks of 30 flats of accommodation for soldiers at 146 Battalion Eburutu Barracks in Calabar on September 7, 2023.
While commissioning the blocks of flats, the GOC thanked the COAS for the privilege of representing him during the event and further admonished the beneficiaries to make good use of the accommodation as proper maintenance of the structure will encourage the appropriate superior authority to do more.
During the operational visit, the GOC also visited 245 Recce Battalion, Afi Barracks Ikom, 130 Battalion (Rear) and 341 Artillery Regiment in Ogoja, Cross Rivers state respectively. During the visit, he commended the officers and soldiers for their doggedness and dedication to service.
He further encouraged troops to remain loyal to the constitution and be professional in carrying out their duties in line with the set down Rules of Engagement and Code of Conducts in tandem with the Chief of Army Staff's Command Philosophy, which is to transform the Nigerian Army into a well-trained, equipped, and highly motivated force aimed at achieving constitutional responsibilities within a joint environment."