Nigerian Navy intercepts ship, arrests crew members for oil theft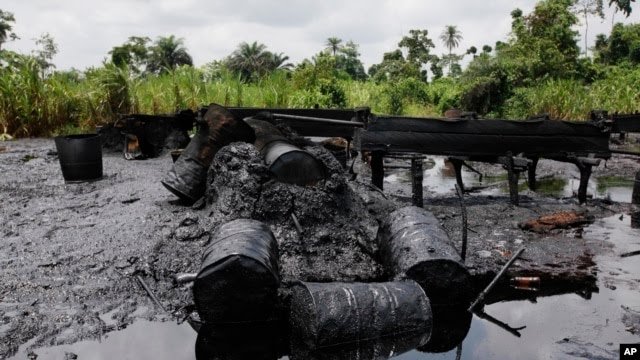 The Nigerian Navy has arrested an oil vessel MV Ofuoma and 10 crew members carrying alleged illegally refined petroleum products in Rivers.
The Joint Task Force Operation Delta Safe (OPDS), Component Commander, Commodore John Siyanbade, who represented the OPDS Commander, Rear Adm. Olusegun Ferreira, stated that the MV Ofuoma was apprehended by the Nigerian Navy Ship Pathfinder on August 15 at Abuloma jetty in Port-Harcourt.
The vessel, he said, is being used as a storage facility for illegally refined oil products.
He said: "The vessel was receiving product suspected to be illegally refined AGO from a dug-out wooden boat alongside it.
"As it was intercepted by OPDS, about 20,000 litres of the product have already been transferred from the dug out boat to the vessel. Currently, we have about 35,000 litres still remaining on board, as you have seen.
"The operation was conducted by troops of the JTF Operation Delta Safe Headquarters."
He added that efforts are ongoing to deactivate all illegal oil refineries in the area as investigations continue to unravel the brains behind the crime against the Nigerian economy.
"The suspects have given credible information about where they source the product from; operation is on going to deactivate the illegal refining site in the area and the operation will be for some time."