Iponri Market illumination exemplifies commitment to enhancing energy access — Gbajabiamila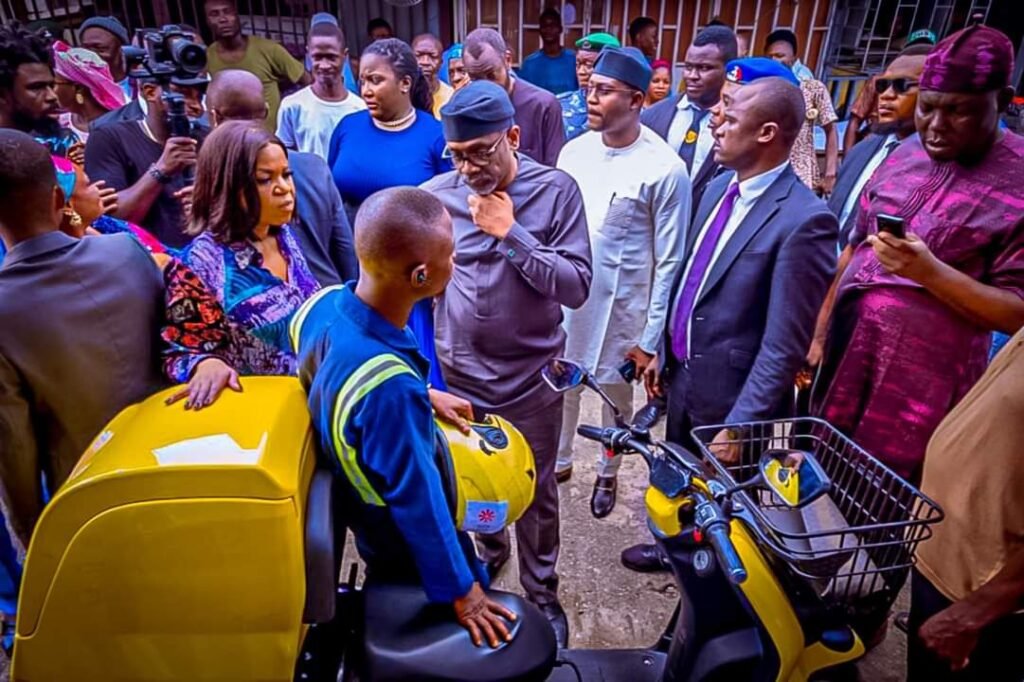 In a groundbreaking initiative to bolster sustainable energy solutions in Nigeria, the Chief of Staff to the President, Femi Gbajabiamila and UN Special Representative for Sustainable Energy for All, Damilola Ogunbiyi, undertook a visit to Iponri Market in Surulere, Lagos State.
The focus of their inspection was the Universal Energy Facility (UEF) Solar Project, a transformative endeavor aimed at providing clean and reliable energy to the bustling market.
Accompanied by notable dignitaries including the Managing Director of Sterling Bank, Abubakar Suleiman, and CEO of All On, Caroline Eboumbou, the delegation engaged with end-users to gain firsthand insights into the positive impact of the solar installations on their businesses.
Funded by the Universal Energy Facility (UEF), a results-based finance facility administered by Sustainable Energy for All (SEforALL), and executed by SOLAD Integrated Power, the solar projects represent a collaborative effort between the Nigerian government and UEF to advance sustainable energy solutions in the country.
During the visit, Gbajabiamila and Ogunbiyi commended the initiative, emphasizing its significance in making clean and sustainable energy accessible to all.
Gbajabiamila stated, "The electrification of the Iponri Market with sustainable energy solutions exemplifies Nigeria's unwavering commitment to enhancing energy access, driving economic growth, and embracing the transformative potential of solar energy."
UN SRSG Ogunbiyi echoed these sentiments, emphasizing the pivotal role of sustainable energy access in building a brighter and more equitable future for all.
"Our visit to the Iponri Market today underscores our commitment to empowering communities with clean, affordable, and sustainable energy solutions, setting the stage for Nigeria's energy transition to a greener future," she remarked.
The Universal Energy Facility (UEF) serves as a multi-donor results-based finance facility, aligning with SDG7 and the Paris Agreement to accelerate energy access across Sub-Saharan Africa.
It provides crucial grant payments to qualified renewable energy companies, supporting sustainable business models that alleviate upfront costs and facilitate the adoption of clean energy.
Managed by Sustainable Energy for All (SEforALL) and supported by a coalition of organizations including the Global Energy Alliance for People and Planet, Shell Foundation, The Rockefeller Foundation, Power Africa, and others, the UEF exemplifies a collaborative commitment to ushering in a sustainable and prosperous energy future for Nigeria and beyond.