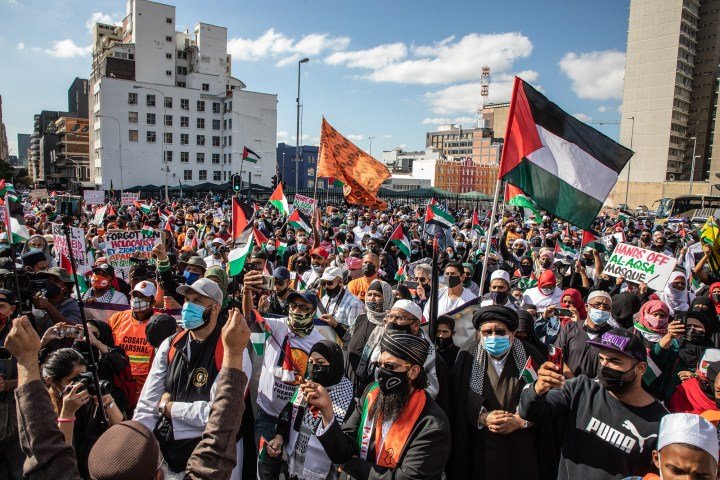 Hundreds of South Africans again marched through Cape Town on Friday to condemn Israel's continuous assault on the Gaza Strip.
Protesters marched to parliament carrying Palestinian flags and banners with messages of solidarity with Palestinians.
Mandla Mandela, a grandson of Nelson Mandela, a global anti-apartheid and South Africa's first black president, called on " the President, Cyril Ramaphosa not to only stand at the United Nations General Assembly (UNGA) and speak on Palestine but act upon it."
The grandson of the former South African President who fought the all-white minority apartheid regime also appealed to South Africa's Minister of Transport to cancel the air traffic license of the Israeli airline.
The Al-Quds Foundation-organised rally drew participants from numerous religious faiths, including Muslims, Christians, and Jews.
This is the second demonstration of its kind in Cape Town this week. South Africans protested outside the US Consulate in Johannesburg on Wednesday, while citizens of Cape Town marched to the offices of the South African Zionist Federation.
The latest violence began after Hamas launched a deadly attack on Israel over the weekend.
Hamas said the operation was in retaliation for the storming of the Al-Aqsa Mosque in occupied East Jerusalem and Israeli settlers' growing violence against Palestinians.
More than 2,700 people in Israel and Gaza have since been killed.