Mali, Niger and Burkina Faso form Sahel security pact against internal, regional attack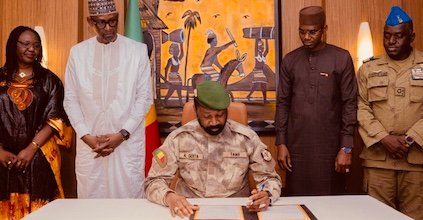 Mali, Niger and Burkina Faso have reached an agreement to protect each other in case of internal attack or external attack, especially from the regional ECOWAS bloc after the coup in Niamey.
The three nations are battling extremist insurgency affiliated to al Qaeda and the Islamic State, and their relations with neighbors and international partners have been strained as a result of the military takeovers.
The military overthrow in Niger has widened the division between the three countries and the Economic Community of West African States, which has threatened to use force to restore constitutional governance in the country.
Mali and Burkina Faso have pledged to assist Niger if it is attacked by ECOWAS.
The charter of the pact, known as the Alliance of Sahel States, states that "Any attack on the sovereignty and territorial integrity of one or more contracted parties will be considered an aggression against the other parties."
Commenting on the pact on his X social media, Mali junta leader Assimi Goita, said, "I have today signed with the Heads of State of Burkina Faso and Niger the Liptako-Gourma charter establishing the Alliance of Sahel States, with the aim of establishing a collective defence and mutual assistance framework."
Recall that the West African bloc recently said it has activated its standby force to evict the coup plotters in Niger from the presidential palace and return Mohamed Bazoum, who has been detained since his overthrow on July 26.
The ECOWAS military chiefs in a summit in Ghana also said they had agreed on an unannounced day to move against the coup plotters.