COAS inaugurates multiple infrastructures in Akure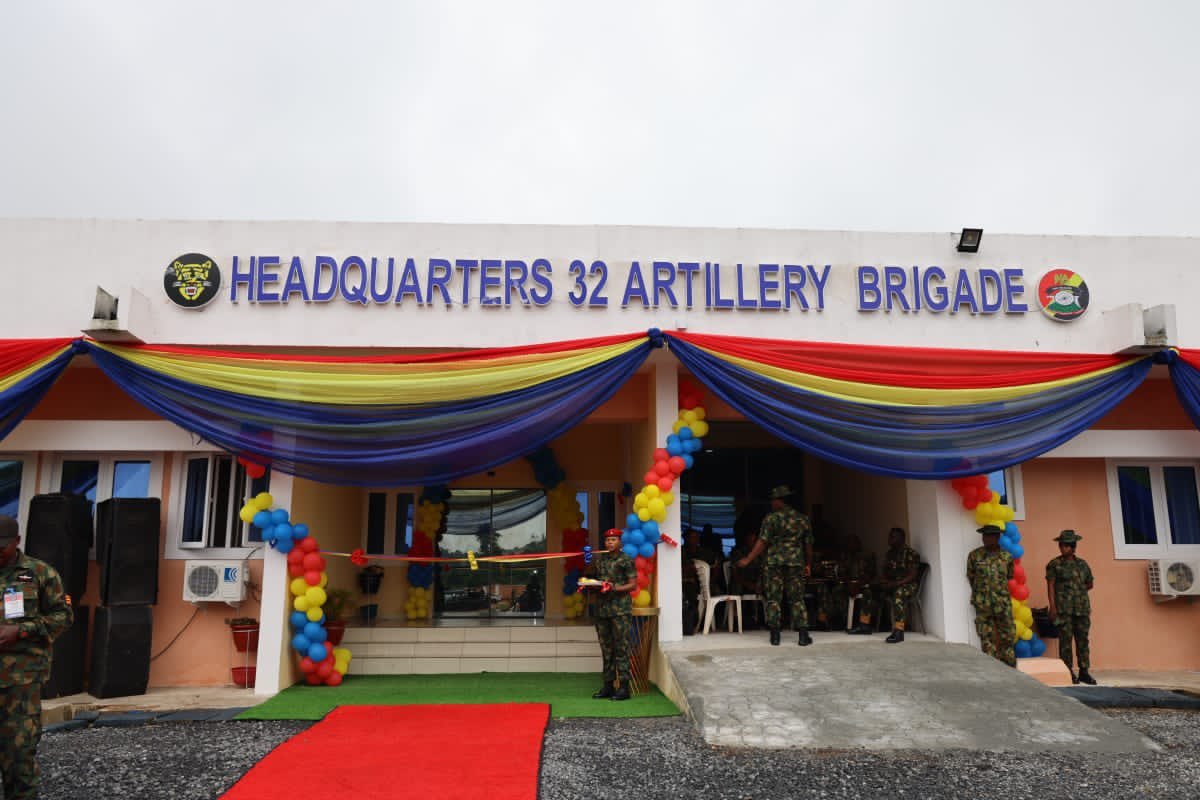 The Chief of Army Staff, Lieut. Gen. Taoreed Lagbaja, has inaugurated multiple infrastructural projects in Akure, Ondo State.
The projects, consisting of the remodelled and renovated Headquarters of the 32 Artillery Brigade office complex and newly constructed official residence of the Brigade Regimental Sergeant Major (RSM), were commissioned today, Wednesday 2nd of August, 2023, at Owena Cantonment, Akure.
Onyema Nwachukwu, the Director of Army Public Relations, revealed this in a statement.
The Army Chief proclaimed that the commissioned projects are the tip of the iceberg of his Command Philosophy to make sound administrative support available and accessible to Army personnel and their families.
He reassured the officers that his administration will provide the most suitable working conditions ever, while imploring them to maintain and put the existing facilities to optimal use.
The Army Chief continued by charging "all personnel of the NA to remain unshakably loyal to the Constitution and Government of the Federal Republic of Nigeria."
"The refurbished office complex has 32 offices, one conference hall, an operation room, a canteen and a library, while the RSM's House is a 3 ensuite bedroom bungalow," the Commander of the 32 Artillery Brigade, Brigadier General Muktar Adamu, stated.
Furthermore, he appreciated Lieut. Gen. for his unparalleled leadership ability and providing the necessary facility upgrade and support for the Brigade, "adding that the projects will highly motivate the personnel to be more productive in ensuring peace and security in the Brigade's area of responsibility."
In a similar development, the Army Chief also commissioned a Special Intervention Civil Military Cooperation Project in Oke-Bola community, Akure.
"The project is the remodelling and renovation of Local Authority Primary School II, Oke- Bola. At the inauguration of the project, the project executor, Maj Gen Omotomilola Akintade (Rtd), disclosed that the project comprised, four blocks of nine Classrooms and a Hall, a Court with spectators' pavilion, a Five- Aside Football Pitch with two spectators' pavilions,  Sports Changing rooms, Lavatories, Bore hole for water reticulation, Perimeter fence, electrification, solar lights and a play ground," the statement reads.
It added, "Gen Akintade, who expressed gratitude to God for the opportunity to give back to the society, also lauded the COAS for sponsoring the intervention project in his alma-mater. He noted that it will create a conducive atmosphere for teaching and learning in the school. He also urged the staff and pupils of the school to jealously guard and maintain the facilities."