Union of African Muslim Scholars congratulates Alaro, other member for winning alumni awards
The Union of African Muslim Scholars has congratulated two of his members for winning the International Islamic University of Madinah alumni award.
The awards were presented during the university's graduation ceremony held on Wednesday May 24, 2023.
Among the recipients of this notable alumni award, Professor Alaro, alongside another distinguished individual, represents the Union of African Muslim Scholars.
The Union expressed its heartfelt congratulations to both members in a message released on Monday May 29, 2023.
According to the Union, this award acknowledges individuals who have been nominated as the most outstanding alumni since the inception of the university until the present time.
It further highlighted that "the award ceremony serves as a platform to showcase the Kingdom of Saudi Arabia's commitment to education and commend the noteworthy contributions made by alumni to their respective societies."
The Union proudly announced that two of its members were recognized in this year's edition of this esteemed accolade.
Prof Alaro, who currently serves as the head of the Research, Studies, and Translation Committee within the Union, received the distinguished title of "Best Outstanding Alumnus with Academic Impact."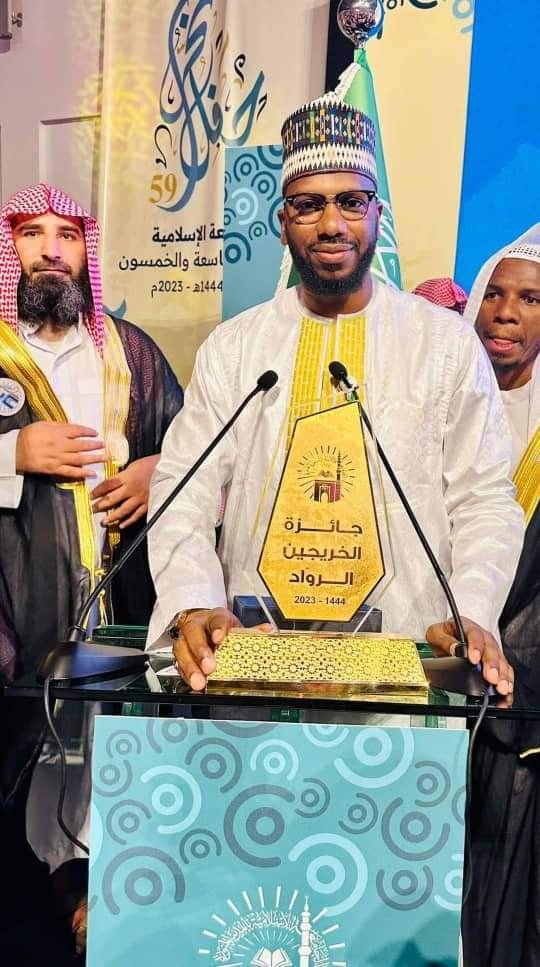 Professor Masirre Doukoure from Cotedovoure was honored as the "Best Outstanding Alumnus with Innovation and Entrepreneurship."
The Union expressed sincere gratitude and appreciation to the Islamic University for acknowledging the achievements of its esteemed members.
It is worth noting that the Islamic University recently celebrated the graduation of its fifty-ninth batch. The ceremony, which was held under the gracious patronage of His Royal Highness Prince Faisal bin Salman bin Abdulaziz, Governor of Al-Madinah Al-Munawwarah Region, saw a total of 2,552 graduates from various countries and diverse fields of study, spanning all academic levels.