Tragedy strikes Bauchi as 38-year-old primary school watchman 'commits suicide' on work premises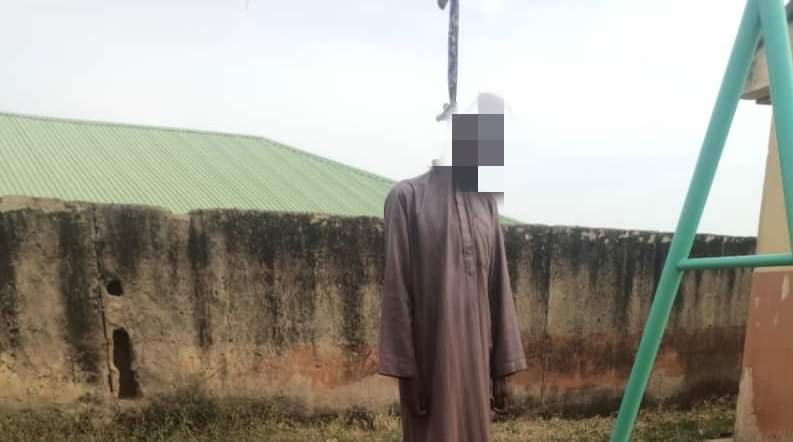 In a heart-wrenching incident that has sent shockwaves through the Bauchi community, a 38-year-old watchman, Mallam Abdullahi Ardo, attached to the Child Care Development Primary School, reportedly took his own life on the school premises.
The incident, suspected to be a suicide, has sparked conversations about the importance of mental health awareness and support.
The Nigeria Police Force has officially confirmed this tragic event.
Mahid Muazu Abubakar, the spokesman for the state police command, broke the news through a post on social media platform X (formerly Twitter).
He urged the public to "SAY NO to SUICIDE" and emphasized the need to raise awareness about this critical issue.
Mallam Abdullahi Ardo, the deceased, had been serving as a dedicated watchman at the primary school in Bauchi.
The exact reasons behind his decision to end his life remain unclear, but the police reported that he was found hanging from a swinging pole within the school premises in Tudun Wada qtrs Gombe.
The incident occurred in the early hours of Monday, leaving the local community in disbelief and sorrow.
In response to this tragedy, the police spokesperson urged everyone to reach out to their loved ones and offer support, emphasizing that some individuals may be dealing with severe problems that could lead to such tragic outcomes.
This unfortunate event comes on the heels of another suicide-related incident in Nigeria.
Just 24 hours earlier, the Nigerian Army managed to rescue a woman, Mrs. Francesca Spark, who was on the brink of committing suicide by plunging into the Lagos Lagoon near the 81 Division Officers' Mess in Marina, Lagos. While Mrs. Francesca was successfully saved, the reasons behind her desperate act remain undisclosed by the army.
As the nation grapples with these distressing events, it is an urgent reminder of the importance of mental health awareness, support systems, and the need for a more open dialogue about the struggles people face in silence.