President Tinubu meets Vice President of Oracle, says Nigeria ready for digitisation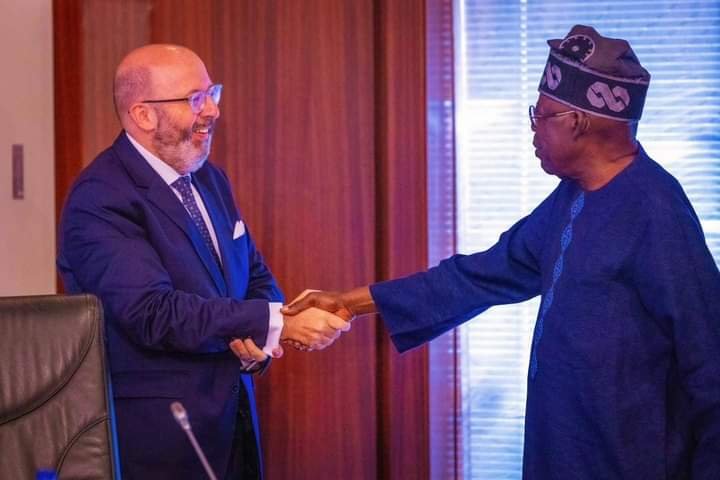 President Bola Tinubu extended his support on Monday for new partnerships with global technology businesses to ensure that data from public institutions is accurate and transparent in giving templates for good public sector planning and accounting across sectors.
This was contained in a statement released by Ajuri Ngelale, Special Adviser to the President on Media & Publicity as the president received Global Vice President of Oracle, Mr. Andres Garcia Arroyo.
The president, according to the statement, welcomed the commitment of the tech giant to Nigeria's civil service reform process and data management sector, even as he emphasized the need for greater knowledge transfer through the establishment of academies and training institutions in the country.
Aiming to promote the ease of doing business, digital innovation, effective identity management, efficient payroll administration and qualitative citizen-centred service delivery, the President cited Oracle's proven success in the automation of the Lagos State payroll system during his tenure as the Lagos State Governor and lauded the positive impact of technological solutions in enhancing accountability, and expediting timelines for service delivery without sacrificing quality in the process.
"I have tested Oracle and it has worked for our success. In Lagos State, what we did in effective collaboration with you, has been copied across the states of the Federation. We can only build our institutions with accurate data and cutting edge data management capabilities that are reliable and effective. We can only rely upon our human resources for excellent service delivery to Nigerians, if they are well trained and ready to learn.
"The transfer of knowledge is essential for our nation and the continent. In this government, we believe that the only way to build our country is a bottom-up-approach and from one single sheet of paper, we can create an end-to-end solution for public administration that will rid our service of its worst tendencies in favor of effectiveness and reliability," the President declared.
Expressing concern about Nigeria's bloated civil service payroll at the national and sub-national levels, the President stated: "Each time they give me the payroll number, I get so frightened. Where am I going to get the capital to develop the infrastructure we desperately require if the payroll of 1% – 2% of the population is consuming all the revenue? I think we need a tight technological control that can check and balance all necessary control points of our transaction processes. I'm looking forward to working with Oracle because I have the belief and confidence that you can do it as you have in the past."
In his remarks, the Global Vice President of Oracle proposed a comprehensive digital transformation of work process at the federal level of administration, in order to achieve greater macro-economic visibility; streamline government processes for cost and time savings; and to provide the desired skills development opportunities for Nigerians.
"You have shown tremendous practical leadership throughout your career, Mr. President. We have partnered with you and we know how determined you are to achieve all that you set out to achieve. This is why we are offering Nigeria a free national diagnostic of the present situation in the public service with a view to dimensioning across sectors the scale of solution required. We look forward to partnering with you again," the Oracle VP concluded.