Kaduna residents groan as fuel sells for N620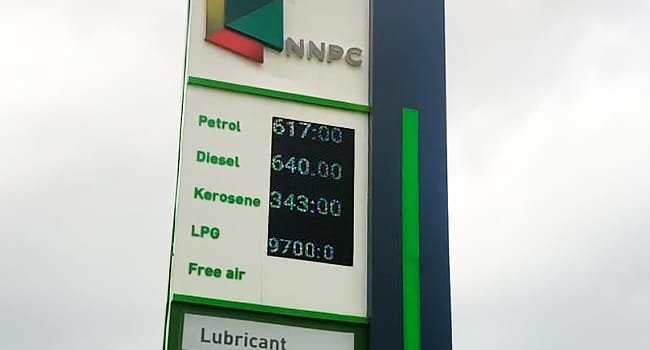 The price of Premium Motor Spirit (PMS) popularly known as petrol have gone up across Nigeria and residents of Kaduna are groaning over the hike.
The residents are lamenting that the situation "is becoming unbearable".
The increase in petrol price took Nigerians by surprise on Tuesday with many petrol stations including those of the Nigeria National Petroleum Company Limited (NNPCL) adjusting their pump to a new price higher than what was being sold.
Some major and independent marketers have adjusted their petrol pump price to N620 per litre, while some are still selling at N540 and N550 per litre within the state capital.
Angry motorists who are not happy with the latest development criticized the marketers for selling at N620 per litre of petrol when they are still selling their old stocks and have urged the government to do something about it.
Speaking to Channels Television's correspondent who was monitoring the situation at a filling station in Kaduna, a resident, Victor Rueben, advised the government to fix the refineries in the country to stem continuous fuel price increase.
"In fact people almost fought here now because in our presence people that bought before me bought at N540, within a short time they said their light went off just for them to come back and adjust the metre to N620 and you have no option, like me my car just stopped and I couldn't move, so I have to buy and maybe take the car home and park it because it is not funny now.
"My appeal to them (government) is this thing is becoming unbearable for the masses, if they know that they want to really do well as a government, let them see how they can put our refineries in order so that they will not be telling us that they are paying money to bring the product back.
"When they take the crude oil out they tell us they are paying higher money to bring it back, if our refineries are working, all these things won't be like this," Rueben said.
Another resident Abubakar Iliyasu, said, "I have been here for the past one hour; in less than 10 minutes they said they have increased the fuel price to N620. Is the new stock or old stock? We are using old stock.
"Look at other vehicles there waiting for fuel but still they are selling N620 within a twinkle of an eye. Where are we heading to as Nigerians? Is there any justification in it? Let the government realise that things are worsening, we cannot just fold hands and start bearing it."
Meanwhile, long queues have resurfaced at filling stations that are still selling at the old pump price of N550 per litre. However, an independent marketer told Channels Television in confidence that many of the petrol stations will definitely adjust their pump price to the new N620 per litre.
A filling station located along Kachia Road in Kaduna metropolis is still selling at the old pump price of N540 per litre. The owner, however, told our correspondent that he is likely to adjust the price to N620 at the end of today to reflect the current price regime.
The increase in price is the second significant jump in the price since May 29, when President Bola Ahmed Tinubu announced that the fuel subsidy was gone.
The price had jumped from below N200 per litre at NNPC outlets and many stations across the country to the N500 range.