EFCC arrests 13 Chinese suspects, alleges illegal mining in Kwara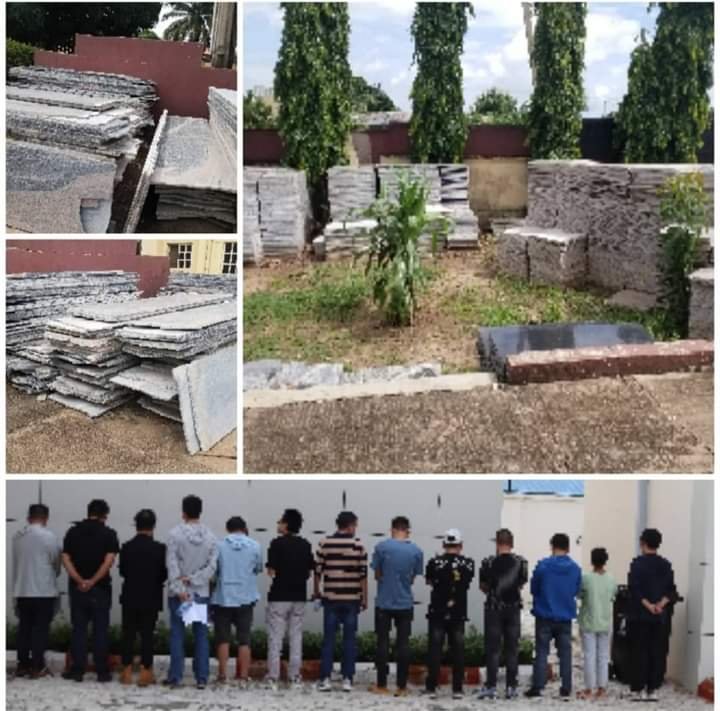 Men of the Economic and Financial Crimes Commission (EFCC) in Ilorin has apprehended 13 Chinese suspects over alleged illegal mining operations in the State.
The suspects was arrested at G.R.A. Ilorin on Thursday, July 13, 2023.
According to the EFCC Operatives, the intelligent investigations made on the suspects revealed that their activities of illegal extraction covered all the 13 Local Government Areas of the State.
They added that the Chinese Nationals, which comprises of 12 males and 1 female, were also accused of non-payment of royalties to the federal government as enacted in Section 1(8) (b) of the Miscellaneous Offences Act Cap M17, 1983.
Following the arrest, the illegal miners mentioned their affiliation with a Chinese Company, W. Mining Global Service Limited, in the State, stated that every mine is deposited there for local processing.
"Upon interrogation, the suspects confessed to be workers of a Chinese Company known as *W. Mining Global Service Limited* situated at Olayinka in Ifelodun Local Government Area of Kwara State. It was gathered that the company was using the illegally mined granite to produce marble for sale locally in Nigeria. Findings also revealed that some of the suspects working in the said company were without 'work permit,' but only entered Nigeria with visitor's visa," the EFCC Operatives said.
Last week, Acting Chairman of EFCC in Kwara, Abdulkarim Chukkol, lamented the illegal mining operations happening through the hands of foreigners in the State as a national and local economic threats.
Sanwo-Olu inaugurates 11 perm secs, assigns 7 to health sector
Chukkol said, "Within the last 8 months, no fewer than 80 illegal operators had been arrested by the Ilorin Zonal Command of the EFCC and 24 truckloads of assorted minerals impounded."
He continued, "The Ilorin Zonal Command of the EFCC had on September 10, 2022, arrested a Chinese National, Dang Deng, managing director of Sinuo Xinyang Nigeria Ltd, for being in possession of 25 tons of assorted crude minerals and got him convicted on October 19, 2022 before Justice Mohammed Sani of the Federal High Court, Ilorin."
Mr Chukkol declared that the 13 suspects would be arraigned to court as soon his men conclude their investigations on their unlawful activities.
"The suspects are Guo Ya Wang (36), Lizli Hui (42), Guo Jian Rong (36), Lizh Shen Xianian (37), Lishow Wu (26), Guo Pan (38), Lia Meiyu (53), Guo Kai Quan (36) Lin Pan (50).
"Others are Ma Jan (38), Wendy Wei Suqin (31), Li Zhinguo Wei (29), and Xie Zhinguo (53)."