28-year-old arraigned for raping girl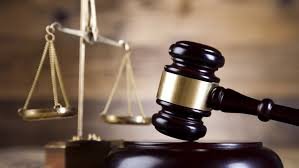 28-year-old arraigned for raping girl
A Kaduna Magistrates' Court on Thursday ordered that a 28-year-old man, Abdalah Sanusi, be remanded in a Correctional Centre for allegedly raping a 14-year-old girl.
The police charged Mr Sanusi with rape.
Magistrate Ibrahim Emmanuel gave the order following a motion by the prosecution counsel, Chidi Leo, that the matter be referred to the director of the public prosecutions for legal advice.
Mr Emmanuel did not take Mr Sanusi's plea. He ordered the prosecutor to send the case file to the DPP for advice.
The magistrate adjourned the case until January 20 for further mention.
Mr Leo said the accused committed the crime on November 30 at his residence.
The defendant, the victim's neighbour, went to the victim's mother's shop and bought some provisions without paying, and the mother asked the teenager to get the money from him at home, the court heard.
"On getting there, he bolted his door and raped her," said the police officer.
The prosecutor further said Mr Sanusi brought out a knife and threatened to stab her if she shouted for help.
(NAN)