Lagos introduces rotavirus vaccine into routine immunisation programme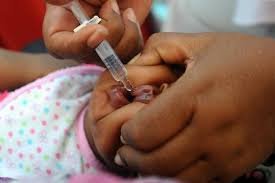 The Lagos State Primary Health Care Board (LSPHCB) says the state has introduced rotavirus vaccines into its routine immunisation programme to avert deaths of children under five years.
Taiwo Onoro, state immunisation officer, disclosed this during the LSPHCB sensitisation meeting on the introduction of rotavirus vaccination on Wednesday in Lagos.
Rotavirus is a contagious virus that causes severe diarrhoea diseases (watery stool), vomiting and fever, primarily in infants and young children.
Ms Onoro noted that rotavirus caused 40 per cent of diarrhoea in children, adding that without proper treatment and care, those who got the disease could become dehydrated or hospitalised, and could even lead to death.
She said the introduction of the vaccine into the programme was in recognition of the magnitude of rotavirus-related diarrhoea disease in the state.
According to her, the immunisation programme aims to avert over 50,000 children's death from the disease annually.
She said LSPHCB would conduct a statewide immunisation campaign against rotavirus for seven days, starting from November 25.
"The vaccine will be given free of cost to all infants at the age of six weeks, 10 weeks and 14 weeks.
"After the campaign, the rotavirus vaccine will be given along with other vaccines under the Ri programmes available at all primary healthcare centres and private hospitals in the state," she said.
Also, Segun Emuju, state coordinator of the National Primary Health Care Development Agency (NPHCDA), said immunisation remained the most cost-effective public health intervention against rotavirus.
Mr Emuju said introducing the life-saving rotavirus vaccine in the Expanded Programme on Immunisation (EPI) was crucial because it was expected to avert over 110,000 deaths in children under five in the next 10 years.
He appealed to parents and caregivers to take advantage of the privilege and ensure that their children were vaccinated against all vaccine-preventable diseases.
(NAN)