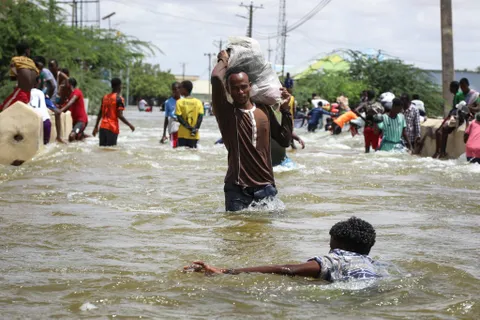 Scores of people have been trapped in flooded areas due to heavy rains in Somalia's Jubbaland state, the UN's humanitarian agency declares.
The Office for the Coordination of Humanitarian Affairs (Ocha) said in a statement that heavy rains that started last month have raised the water levels on the Juba river, causing flooding in riverine areas of the state.
The statement said "In Luuq district, 2,400 people have been trapped in an area surrounded by water."
Authorities and rescue partners have commenced efforts to evacuate those who are stranded in the flooded area.
Daud Aweis, Somalia's Information Minister, stated that the floods, which also impacted Hirshabelle and South-West states, caused severe devastation. He requested assistance, stating that the situation was severe in nature.
The disaster has taken the lives of about 14 people while about 47,000 others have been displaced across Somalia since last month, Ocha said in an earlier statement.
The Food and Agriculture Organisation earlier alerted citizens about a high risk of flooding, particularly in the south-western Gedo region.
Rivers in Somalia often flood during the rainy season, affecting the lives of people living along the rivers and farmers.