Heavy security as Nigerians await Presidential Election Petition judgement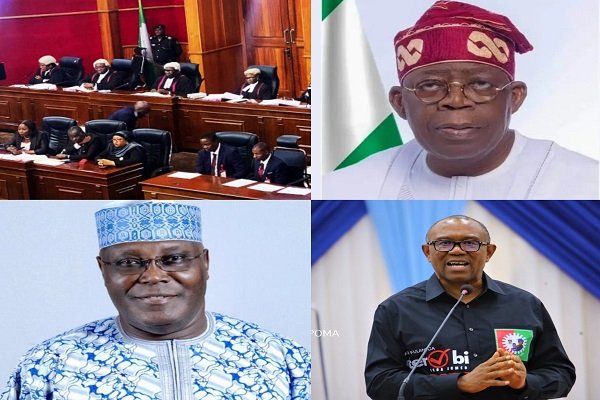 The Court of Appeal Complex, located in the Three Arms Zone, Shehu Shagari Way, Central Business District of Abuja, is heavily guarded this morning as the Presidential Election Petition Court prepares to deliver judgement on the outcome of February's presidential poll.
It comes about a month after the court heard the closing arguments of the petitioners and roughly two weeks before the statutory 180-day deadline for hearing and deciding the cases submitted in March.
Five political parties including the PDP, LP, Action Peoples Party (APP), Allied Peoples Movement (APM) and the Action Alliance (AA) had lodged separate petitions before the tribunal seeking to annul Tinubu's victory.
Tinubu secured 8,794,726 votes to defeat Atiku Abubakar of the People's Democratic Party (PDP) who got 6,984,520, and Peter Obi of the Labour Party (LP) who polled 6,101,533 votes.
After hearing the final arguments of the parties to the cases in early August, the court's five-member panel led by Haruna Tsammani reserved judgments on the petitions.
NAN reports that all roads leading to the Court of Appeal complex are being manned by multiple security operatives, drawn from various arms, including the armed forces, police, men of the Department of State Services (DSS) and the Civil Defence.
The same formation has been placed within the court complex.
The Chief Registrar of the Court, Mr Umar Bangari, in a statement on Monday, said that everything had been put in place to ensure that the judgment in the three petitions pending before the court were delivered hitch free.
Bangari said adequate security had been put in place and that only the invited members of political parties and the general public would be allowed into the courtroom.
This he said was to avoid congestion and security breaches.
He also said that media houses that wish to televise the judgment live would be allowed to do so but at no cost to the court.
NAN reports that as at 7.30 am, lawyers and journalists were being checked by security operatives.
Major government buildings, including the Federal Secretariat, the National Assembly Complex and the access to the Presidential Villa were being manned by heavy security personnel.
By law, the 346 justices sitting on the panels were mandated to hand down their judgments 180 days after the filing of the petitions by the aggrieved candidates.
The judges presiding over the tribunal are:
Justice Haruna Tsammani
Justice Stephen Adah
Justice Monsurat Bolaji-Yusuf
Justice Moses Ugo
Justice Abba Mohammed