Unibadan decorates Zulum as celebration's ambassador, sets committee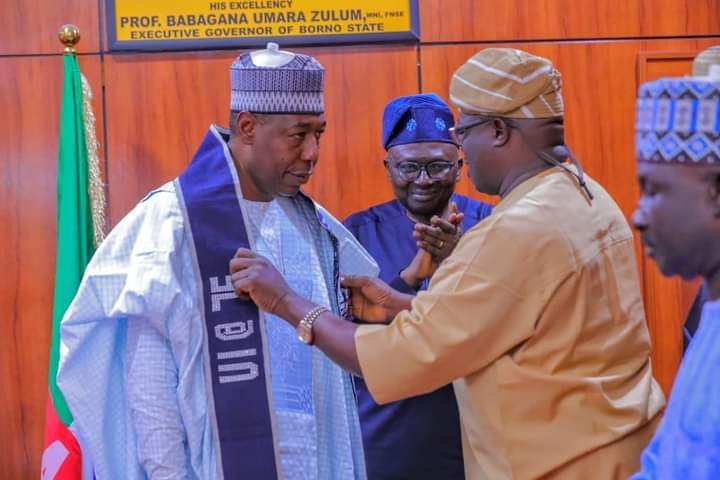 The University of Ibadan has decorated Borno State Governor, Professor Babagana Umara Zulum, as the University's ambassador ahead of its forthcoming 75th anniversary, tagged "UI@75."
The University also sets up an anniversary ad-hoc committee.
This was stated at the award event held at the council chambers of the Government House in Maiduguri on Saturday, August 5, 2023.
While at the event, the management team of the premier university, led by the Vice Chancellor, Professor Kayode Adebowale, presented an award of honour for outstanding performance in combating insecurity and improving education to Governor Zulum.
"The University of Ibadan turns 75 years this year and there is every reason to roll out the drums and celebrate the excellence that the university symbolizes. Your Excellency (Zulum), Sir, it is noteworthy to note that you are a part of that tradition of excellence. To this end, the UI@75 Anniversary Committee has recommended and the Management has approved that your Excellency be designated as a UI@75 Ambassador. We are here today to decorate you as the first person to be so decorated," the vice chancellor said.
"In his first term as governor, he undertook not less than, at least, 556 major projects and completed 70% of them within 4 years. One-third of these capital projects were on education. One of his hallmarks is to build mega secondary schools with each having 1,500 students capacity and equipped enough to compare with some universities,"  he added.
Prof. Kayode noted, "this (Zulum) is the governor that steered the ship of Borno through the twin turbulence of COVID-19 and unrelenting insurgency. He has proved himself to be a leader that walks the talk by keeping his promise."
Responding, Prof. Zulum expressed gratitude to the entire university management for the honour bestowed on him.
He said, "Let me first and foremost express my deep appreciation to the Vice Chancellor and the management team for finding me worthy of this decoration as an ambassador of UI's 75th anniversary."
He reiterated, "I want to assure you that we shall continue to partner with you and we shall continue to collaborate with you with a view to repositioning the education sector. Borno State University is young, it is just four years old. Therefore, we will partner in the areas of staff development."