President Tinubu seeks military reform to confront unconventional forces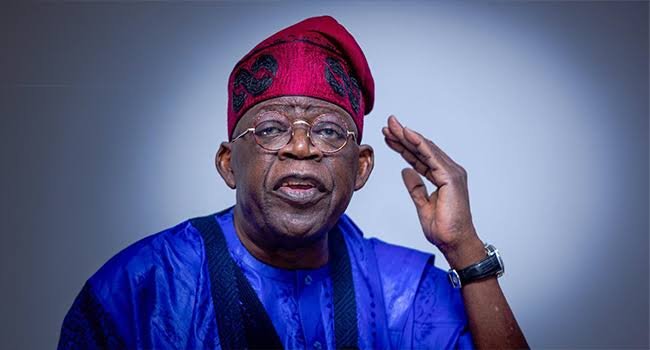 President Bola Tinubu has requested reform of the military architecture and practice to the combat the menace of unconventional forces.
He disclosed this at the the graduate ceremony of the Armed Forces Command and Staff College, Jaji, Kaduna State on Friday July 21, 2023.
The President stated that Nigeria and other neighboring countries must be innovatively ready to effect paradigm shift in their military strategy and tactics, maintaining that the change is highly necessary to tackle mobile and elusive irregular forces that disdain warfare protocols in the subregion.
'We must also be brave enough to reform military doctrine and practice. We do not face a conventional army on the traditional field of battle. No, we contend against mobile, elusive irregular forces that disdain the normal rules of warfare.
"We must adjust accordingly to subdue the menace. This shall require a change in mindset, in strategy, in tactics in equipment and in gear," he noted.
In his strive to ensure the effectiveness of the reform, the commander-in-chief of the armed forces spelled out his security mandate to provide all the necessary arms and machineries to create a peaceful and secured nation for all citizens.
He said, "As Commander-in-Chief, I have given myself the following charge: to deploy the entire machinery of state power to ensure security of our people and property in a just and democratic society."
The Nigerian leader also acknowledged the contributions of the immediate past president, Muhammad Buhari, towards security reform and promised that the efforts will not be left futile rather scaled up by his administration.
'Under my predecessor, the Armed Forces worked tirelessly toward necessary reforms to enhance combat effectiveness and operational capability. We must now pick up the pace," he added.
The commander-in-chief described the role of the armed forces in fighting the Africa's challenge of violence, exploitation and insecurity as vital, enjoining them to 'defend the continent from geopolitical changes and resource competition.'
'We live in a moment of flux. Geopolitical change is afoot. Old alliances and assumptions are being tested as new ones are being shaped. Trade and global economic activity are fast, yet fragile and easily disrupted by war, weather or pandemic.
"Underlying it all is the often unspoken but urgent competition for precious resources. Water, food, gold, oil and other items have all been placed in contest.
"In too many instances, the contest turns violent. Areas that should blossom into economic prosperity and hope become factories of pillage and oppression.
"In Africa, this condition is perhaps our greatest challenge and harshest injustice.
Commending the graduates from Nigeria's Ministries, Departments, and Agencies, as well as students from Asia and sister Africa nations, the President underscored the importance of the college and its contributions to professionalism and defense of national interests.
"Your role combating this grave evil is crucial. For we call on you to defend not only our land and resources but our people and their democratic existence.
"Your training was sculpted to fit the imperatives of our times," the President told the 291 graduating officers.