First lady renames NCWD, inducts Bisi Fayemi into Nigerian Women Hall of Fame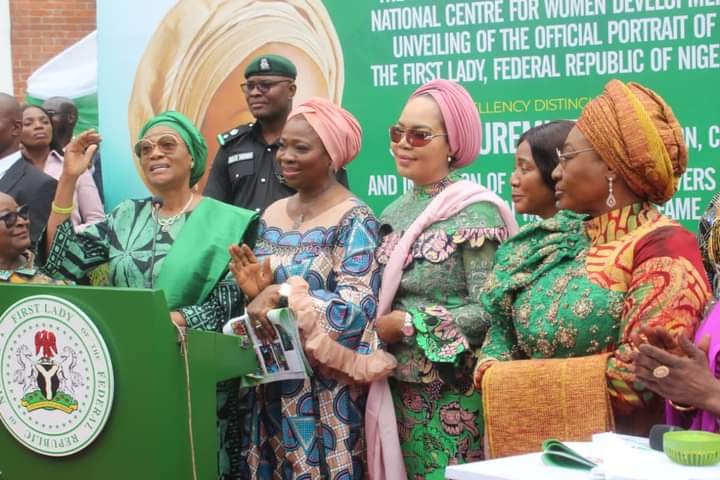 In commemoration of the positive contributions of the wife of the former military head of state, Maryam Babangida, towards gender empowerment, the first lady of Nigeria, H.E. Remi Tinubu has renamed the National Center for Women Development (NCWD) to Maryam Babangida National Center for Women Development (MBNCWD).
On the same grounds, the first lady also inducted Erelu Bisi Fayemi, wife of Kayode Fayemi, alongside other distinguished women into the Nigerian Women Hall of Fame.
She disclosed this at a colourful event hosted for women leaders on Wednesday, July 18, 2023.
Among the awardees of the occasion is ex-governor Kayode Fayemi of Ekiti state, who was ably represented by her wife and honoured for championing the move of gender empowerment during his tenure as the executive governor.
Also in attendance are the wife of the vice president, Nana Shettima, states first ladies, the MBNCWD director, and others.
Madam Tinubu also recognised the current Ekiti governor H.E Biodun Oyebanji for his commitment to sustaining gender issues.
Hijrah 1445 AH: Oyetola rejoices with Muslim faithful
"I thank most sincerely the DG of the MBNCWD, Dr Villita Asabe and the Planning Committee for the recognition.
"Many thanks to my sisters the State First Ladies, Mrs Bunmi Dipo-Salami, Mrs Jaiye Bamisile, Mrs Kemi Fatoba, Alhaja Olanrewaju and HE Hajia Fatima Abass Tajudeen, Wife of the Speaker," Erelu Bisi Fayemi said.