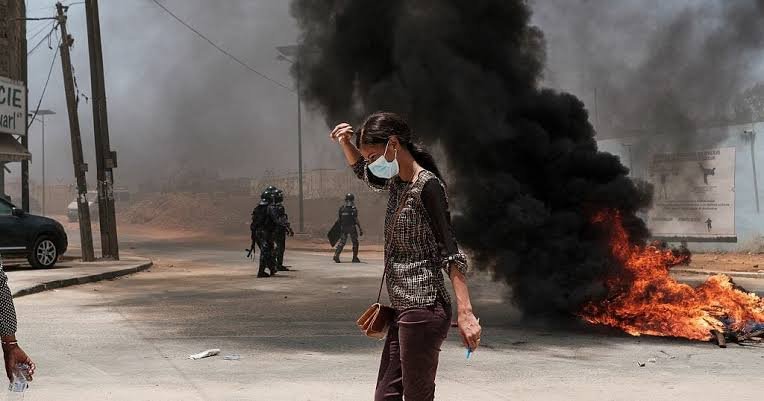 The United Nations and African Union have called for calm after the sentencing of opposition politician Ousmane Sonko sparked some of the deadliest violence in recent years.
In response to the rising death toll, which has reached 15, authorities have deployed the army in Dakar, the capital, and other cities.
The violence erupted after Sonko was sentenced to a two-year jail term on charges of corrupting youth, potentially preventing him from running in the 2024 presidential elections.
Despite the army's deployment, fresh clashes broke out on Friday night in Dakar and Ziguinchor, leading to six additional fatalities, according to government spokesman Maham Ka.
Expressing concern over the situation, UN Secretary-General Antonio Guterres condemned the violence and urged all parties involved to exercise restraint, as stated by a spokesperson. The African Union, through its commission president, Moussa Faki Mahamat, strongly condemned the violence and called on leaders to avoid actions that tarnish the image of Senegalese democracy, which Africa has always taken pride in. The Economic Community of West African States (ECOWAS) also appealed to all parties to safeguard Senegal's reputation as a beacon of peace and stability.
The European Union and France, Senegal's former colonial power, have also expressed their apprehension regarding the violence.
While Senegal's government spokesperson, Abdou Karim Fofana, asserted that the violence was not driven by political demands but rather by acts of vandalism and banditry, he emphasized that the nation would overcome these difficult times.
In an effort to control online communications, the Senegalese government restricted access to several social media and messaging platforms, including Facebook, WhatsApp, and Twitter. The government justified these restrictions as a means to prevent the spread of hateful and subversive messages. Amnesty International's regional director for West and Central Africa, Samira Daoud, criticized the limitations, deeming them arbitrary measures that contravene international law and cannot be justified on security grounds. Reporters Without Borders also called for the full restoration of internet access, stressing that sociopolitical violence should not be used as a pretext to curtail the right to information.
Christopher Fomunyoh, representing the National Democratic Institute for International Affairs, pointed out the political motivations behind the legal cases against Sonko. He expressed concern about the loss of lives resulting from politically motivated demonstrations, considering it unacceptable and unprecedented in Senegal. Fomunyoh hoped that religious leaders and civil society could mediate between the two sides, facilitating concessions and creating an environment conducive to meaningful, inclusive, and credible presidential elections in February 2024.
The eligibility of Sonko for next year's election has been called into question. He was initially charged with rape and making death threats in 2021 but was acquitted on those charges. However, he was convicted of "debauching" an individual under the age of 21, without further clarification on the alleged immoral acts. Under the electoral code, this verdict may render him ineligible for the upcoming election. Sonko maintains his innocence and accuses the president of framing him to exclude him from the election, a claim denied by the government. His refusal to be taken into custody for his jail term, coupled with his allegations of illegal detention, is expected to exacerbate tensions.
Sonko is currently believed to remain in his residence in Dakar, where he has been confined by security forces since the weekend.