Lagos CP detains officers for brutalising Okada man in viral video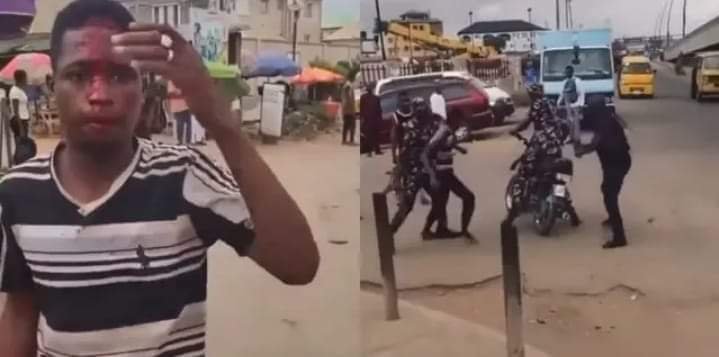 Lagos State Commissioner of Police has detained an officer for brutalising a motorcyclist.
One of the officers was caught on camera hitting the hapless commercial motorcyclist repeatedly with his truncheon.
A video which has now gone viral on social media had shown the three officers decked in police uniform in a struggle with an Okada rider now identified as Al-Hassan Usman.
Usman was trying to fend off the violent officers who were hell-bent on taking his motorcycle.
One of the policemen was seen clubbing the victim as another one repeatedly pushed him away from the bike aggressively, leading to severe injury on his forehead where blood was seen gushing out.
The third police officer rode away on Usman's bike while his two other accomplices hurriedly left the scene in a tricycle.
The incident, which reportedly happened in the Abule Egba area of Lagos State four days ago, has generated angry reactions from Nigerians on social media leading to calls for the punishment of the erring officers.
Reacting to the development on Wednesday, May 17, 2023, the Force spokesperson, Olumuyiwa Adejobi, confirmed the arrest and detention of the officers.
"They have been detained. I'm saying it now. I got the video of the Abule Egba incident on my WhatsApp from the Inspector General of Police, Usman Baba, and when he sends material to me like that, I know what it means," the senior police officer said during the webinar.
He added that CP Owohunwa had swung into action and detained the officer without even waiting for any order, reserving some praises for the commissioner over his proactiveness.
"We don't waste time when our men misbehave," Adejobi added.
Adejobi also disclosed that the Lagos police spokesman, Benjamin Hundeyin, will make photos of the detained officers available to the public anytime from now to further confirm that the police had taken action on the matter.