Controversy surrounding MohBad's death sparks petition to ban Marlian records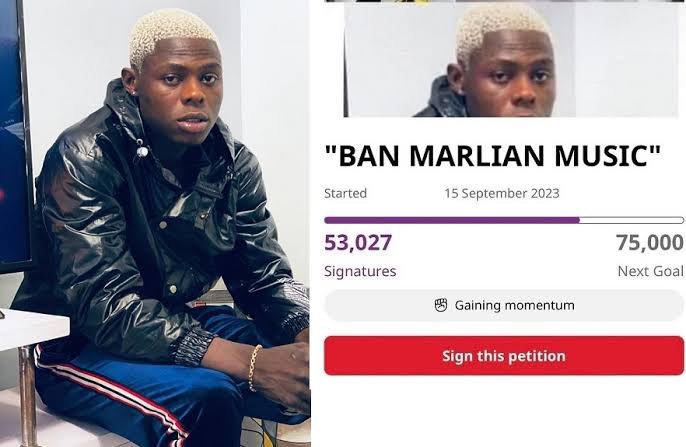 The untimely demise of Ilerioluwa Oladimeji Aloba, famously known as MohBad, has ignited a firestorm of controversy, with over 210,000 people signing a petition urging the ban of Marlian Records, owned by renowned singer and rapper, Naira Marley.
MohBad's death has triggered intense scrutiny, calls for investigation, and conflicting accounts of the circumstances leading to the tragedy.
The 27-year-old rising music star was laid to rest on Wednesday, following his passing on Tuesday.
His sudden death has not only sent shockwaves through the Nigerian music industry but has also piqued the interest of the nation and the international community.
In response to the mounting questions surrounding MohBad's demise, the Nigeria Police Force, Lagos State Command, has initiated an investigation to determine the exact cause of his death.
Speculations are rife that an autopsy may be conducted after the singer's body was interred.
Prior to his tragic demise, MohBad had lodged a complaint of threats to his life with the Lagos police.
This complaint hinted at a rift between the late musician and Naira Marley, raising suspicions about the circumstances of MohBad's passing.
Naira Marley, breaking his silence on Friday, asserted that although disagreements led to MohBad's departure from Marlian Records, he harboured no ill intentions toward him.
The artist expressed his enduring affection for MohBad and pledged full cooperation with law enforcement in uncovering any foul play surrounding the tragedy.
However, an anonymous blogger initiated a Change.org petition, which has gained remarkable traction, amassing over 210,000 signatures at the time of this report.
The petition demands a comprehensive investigation into Marlian Music as a brand and Sam Larry Elegushi, the music promoter.
As the veil of uncertainty shrouding MohBad's death persists, Joseph Aloba, the late singer's father, made a startling revelation. Aloba disclosed that MohBad had met his demise after an auxiliary nurse was summoned to administer an injection, adding yet another layer of intrigue to the unfolding tragedy.
The nation remains gripped by the mystery surrounding MohBad's death, with both fans and authorities eagerly awaiting the outcome of the ongoing investigation.
Meanwhile, the petition to ban Marlian Records gathers momentum, serving as a stark reminder of the cloud of controversy that envelops this tragic loss in the music world.