UN envoy to Sudan resigns, says full civil war imminent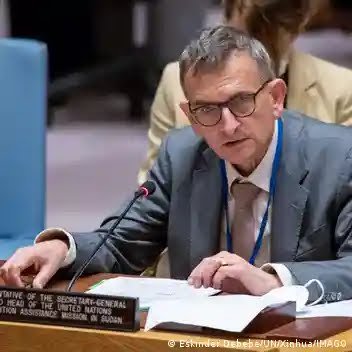 Volker Perthes, the UN envoy to Sudan, has announced his resignation, coming at the peak of instability in the country.
"I am grateful to the Secretary-General for that opportunity and for his confidence in me, but I have asked him to relieve me of this duty," envoy Volker Perthes told the U.N. Security Council.
He warned the United Nations Security Council that the Sudan conflict, which erupted in April between rival military factions, may spill into a full-fledged civil war.
It comes more than three months after Sudan declared him unwanted following the outbreak of the war.
"What started as a conflict between two military formations could be morphing into a full-blown civil war," Perthes said.
In his final speech to the Security Council, Mr Perthes critisised Sudan's military ruler, Gen Abdel Fattah al-Burhan and the RSF head, Gen Mohamed Hamdan Dagalo better known as Hemedti.
Five million people have been displaced in the clashes between the Sudanese armed forces and the rival paramilitary forces, the Rapid Support Forces (RSF).
According to Mr Perthes, the two leaders chose to throw the country into a war that has left a dreadful legacy of human rights violations. He blamed the RSF for sexual violence, looting, and murders in places under their authority.
He also chastised Sudan's military forces for their irresponsible aerial bombings.
Perthes told the 15-member Security Council that there was "little doubt who is responsible for what" in the conflict.
"Often indiscriminate aerial bombing is conducted by those who have an airforce, which is the SAF. Most of the sexual violence, lootings and killings happen in areas controlled by the RSF and are conducted or tolerated by the RSF and their allies," he said during his last council briefing.
Sudan's civil war started four years ago, four years after a popular movement deposed President Omar al-Bashir. Tensions between the army and the RSF exploded into fighting over a plan to combine their troops as part of a transition to civilian government in 2021.
Efforts to reconcile the leaders of the two opposing factions have proved abortive.