Niger Coup: MURIC calls for caution over proposed military intervention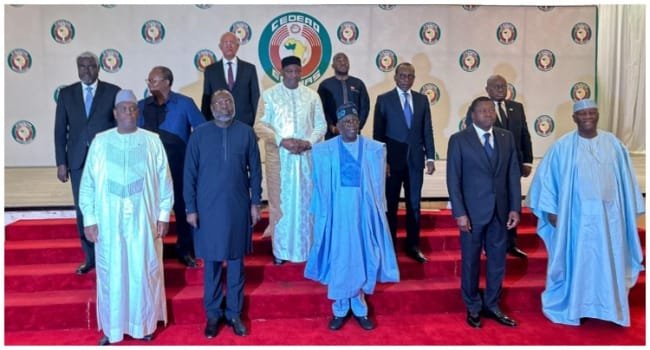 The Muslim human rights advocacy group, the Muslim Rights Concern (MURIC), has called for caution over the plan of the Economic Community of West African States, ECOWAS, to take military steps to reinstate the former President of Niger, Muhammad Bazoum, who was unceremoniously removed and detained by the military junta on 26th July, 2023.
MURIC disclosed this in a statement released on Saturday, 5th August, 2023, by the Chairman of its Kano State Chapter, Malam Hassan Sani Indabawa.
The Nigerian Muslim rights organization was reacting to a letter written and sent to the Senate and read on the floor of the red chamber by the President of the Senate, Godswill Akpabio, Friday, 4th August, 2023.
In the letter, President Bola Ahmed Tinubu indicated several measures already taken in order hasten the release and reinstate President Bazoum.
Some of the steps already taken included cutting off electricity supply to Niger Republic, mobilising international support for the implementation of the provisions of the ECOWAS communique, closure and monitoring of all land borders with Niger Republic and reactivating of the border drilling exercise, as well as military build-up and deployment of personnel for military intervention to enforce compliance should the military junta remain recalcitrant.
In reaction to the moves, MURIC believes the handling of the situation by the ECOWAS is harsh, unpragmatic and may be counter productive.
The organisation explained that "Military interventions could certainly be unpopular in Nigeria and possibly lead to violent and widespread protests. This could only aggravate the worsening security situation in Nigeria."
The statement further states:
"Military action should never be an option in solving the problem of change of government in Niger Republic due to the current and historical relationship between Niger and Nigeria, two brotherly neighbours in West Africa. Relations between the two countries are based on a long shared border and common cultural and historical interactions.
"Citizens of Nigeria and people living in Niger are predominantly Muslims, and share a strong socio-cultural and religious affinity. Nigeria also shares about 1,500 kilometers of land border with Niger.
"The Nigeria-Niger border is artificial. It was drawn in the colonial period by London and Paris, a process driven in part by the desire to check German expansion in West Africa rather than recognition of ethnicities or other indigenous factors.
"Border crossings are also practically impossible to control. In many ways, Niger and northern Nigeria have much in common culturally and the local language of both regions is Hausa.
"Significantly, Nigeria should maintain its age-long foreign policy of non interference in the internal affairs, especially of a friendly neighbor.
"Before Niger, there were some unconstitutional changes of government in at least three Sahel countries, sharing same historical and common border with Niger Republic. Non of the countries were attacked, even though some of the countries are home to military bases of some European and US forces.
"Since 1990 till date, there have been 44 coups and 41 failed attempts in Africa. The fewest attempts, 13, came in the period between 2000 and 2009, compared with 36 attempts between 2010 and 2019, and then 10 attempts since 2020 till date. The latest is that of Niger Republic, carried out on 26th July, 2023.
"The Nigerien transitional military government has already warned against any external intervention. On Wednesday, 2nd August, 2023, its counterparts in Mali and Burkina Faso warned that they would treat any attempt to restore Bazoum to power militarily as a "declaration of war" against them and it would split ECOWAS.
At home front, the internal convulsions will escalate as the Oduduwa Republic, Arewa Republic, Biafra secessionists, Niger-Delta separatists and other sundry anarchists may have a field day with the opening of another avoidable conflict theater.
"Already, European countries have started the evacuation of their nationals in Niger, as Mali, Burkina Faso and Guinea, expressed support for the coup.
"Military interventions could certainly be unpopular in Nigeria and possibly lead to violent and widespread protests. This could only aggravate the worsening security situation in Nigeria.
"The situation in Niger Republic like the rest of Africa is an African problem that requires African solutions; going to war should never be one of those solutions.
"It is more to do with the oppression and domination of France, the former colonial power that refused to allow her former colonies their rights to true independence.
"In the end, we call on President Tinubu, as a listening leader, to immediately withdraw the letter he sent to the Senate and toe the path of dialogue and diplomacy.
"We also call on the Senate to flatly reject Mr President's ill-advised request for its counterproductive and far reaching, negative consequences that may only worsen Nigeria's economic and socioeconomic conditions.
"We further call on Muslim faithfuls and other faith-based groups to intensify prayers for Allah the Most High to avert any disaster that may spell doom for Nigeria and Africa."
Malam Hassan Sani Indabawa,
Chairman,
Muslim Rights Concern (MURIC),
Kano State Chapter,
Saturday, 5th August, 2023