Gov Makinde, Olubadan crown new 10 Obas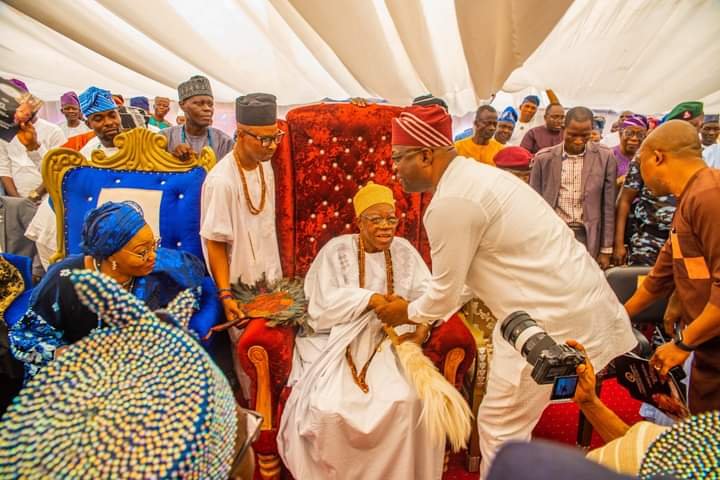 Governor Seyi Makinde of Oyo State joined His Imperial Majesty Oba (Dr) Mohood Olalekan Ishola Balogun Alli, Olubadan of Ibadanland, in the elevation of 10 Ibadan high chiefs to obas.
While at the event, the governor also presented staff of office to the new monarchs.
One of the high chiefs, Rashidi Ladoja, who is a former governor of the state and also in the ascension line of Olubadan, objected the move stating that "only Olubadan has the right to wear a beaded crown in Ibadan."
Speaking at the event held at the ancient Mapo Town Hall in Ibadan, Makinde emphasised that the move of elevation emanated from Olubadan himself, stating that "he only granted approval following the confirmation of the state house of representatives."
He added that his presence was to felicitate Olubadan in crowning his high chiefs as obas.
"We are here for one thing, the Olubadan of Ibadan is crowning his high chiefs as obas. It is not the government that is giving the High Chiefs crowns.
"I am not aware of the crown. I am not in the line. What is happening today is internal. If the royal father says there is a need for reform, me, as the governor, I will support them. Out of the 11 High Chiefs we have in Ibadan, 10 of them have been crowned today," Makinde said.
He added, "Even in a democracy, the majority will have its way and the minority will have their say and we have had them, anyone that is not satisfied can go to Court."
The governor mentioned that despite the installation of new Obas, the Olubadan succession arrangements remain constant and restated the Chieftaincy Law of the land does not confer constitutional authority to any of the new monarchs while the Olubadan of Ibadanland remains the overall head of obas.
Read also: Police arrest 15 suspects over sit-at-home shooting in Ebonyi
Makinde said, "We are not changing the history but promoting and elevating the Ibadan traditional hierarchy. The coronation of the new Obas will not undermine the authourity of the Olubadan nor alter the Olubadan succession arrangements in anyway. Our administration is rather consolidating and elevating the status of Olubadan."
Governor Makinde commended Olubadan for setting history and charged the new kings to carry out their duties as required.
Oba Balogun (the Olubadan), "We are here to reconstruct history because, what we are doing today, as historical as it is could not be said to be novel, but the history has to be reconstructed to make it enduring and sustainable and hopefully, it shall surely be.
"We have a very unique system in our traditional set up in Ibadan which continues to evolve, responding to dynamics of demand as occasions may dictate and this has been confirming the age-long aphorism that the only thing permanent in life is change.
He added, "In our responses to the changes over the years, there had always been issues on forging consensuses as arguments for and against always ensue which makes the ongoing controversy on today's event a welcomed one being our familiar pattern and style in Ibadan.
"In short, whatever we are today in Ibadan as far as our traditional system is concerned are products of periodic changes we have passed through and there is no shying away from making this our own contribution to the system with the conviction that posterity will record us rightly.
"It is sad to note that our people, especially those arguing against this exercise fail to note the differences between this current approach and the previous exercise as they cynically dismissed it as a repeat of what was done before, whereas, the singular fact that, Olubadan, as the prescribed and consenting authority of Ibadan traditional system originated today's exercise among other changes are more than enough to change the narratives.
"This particular occasion is not for a long speech where one can go on educating the public on the imperatives of what we are doing here today, but suffice to say and happily too that there's a consensus on the need for some of our Baales in Ibadan land to wear crowns and be addressed as Obas.
"Again, we all subscribe to the ancient fact and tradition of our High Chiefs being superior to our Baales and even, administratively, the High Chiefs representing the Olubadan as the Acting Chairmen in our various Local Government Traditional Councils superintend over the Baales. Would the Baales crowned as Obas be removing their crowns when going for meetings to be presided over by High Chiefs?
"We cannot do without reference to the indignation our High Chiefs suffer at public gatherings where they are usually denied their well deserved courtesies and treated shabbily, where an Oba of a community not as populous as my Aliiwo family compound is given all respect and reverence simply because there's a crown on his head and addressed as 'Oba"
"I have heard people hammering the uniqueness of our Ibadan traditional system and painting the picture of trying to alter it with what we are doing with this elevation. Far from it. The system remains as it is as nothing changes in our succession plan and the titles with which our High Chiefs are elevated remain, both in nomenclatures and functions.
The monarch also allayed the fears that the stool of Olubadan is losing respect, honour and prestige because of the elevation of the High Chiefs to beaded crown wearing obas, saying, "I don't think it can happen or I don't see it happening because the stool of Olubadan is a sacred one that nobody dares desecrate for whatever reason or purpose."
"What's more, today's High Chiefs are tomorrow's Olubadans and the law of what you sow, you will reap or the admonition of our forefathers that when you want to go and bury your senior brother nakedly, take along your younger brother (Eni to ba fe lo sin egbon e ni ihoho, ko ranti mu aburo re lowo) should remain our guide.
"Suffice to add that today's programme is two-phased with the elevation of some of our Baales in Ibadan land to Obas as Royal Highnesses coming up as the phase two and at a later date. So, my brother Baales' minds should be at peace and begin their own preparation for a similar outing within the shortest possible date.
Oba Balogun emphasised that the elevated High Chiefs will retain and maintain their respective positions on the ladder to the Olubadan of Ibadan land stool.
The newly elevated high chiefs are from the Balogun and Olubadan lines.
From the Balogun line are, Oba Owolabi Olakuleyin, Balogun of Ibadanland; Oba Tajudeen Ajibola, Otun Balogun of Ibadanland; Oba Lateef Adebimpe, Osi Balogun of Ibadanland; Oba Kola Adegbola, Ashipa Balogun of Ibadanland; Oba Dada Isioye, Ekerin Balogun of Ibadanland and Oba Abiodun Azeez, Ekarun Balogun of Ibadanland.
From the Olubadan line, the new Obas are, Oba Eddy Oyewole,Osi Olubadan of Ibadanland; Oba Abiodun Kola-Daisi, Ashipa Olubadan of Ibadanland; Oba Hamidu Ajibade, Ekerin Olubadan of Ibadanland and Oba Adebayo Akande, Ekarun Olubadan of Ibadanland.
The newly elevated high chiefs had earlier received blessings from the head of the Labosinde family, said to be the traditional kingmaker of Ibadanland.
Recall that the then Olubadan, late Oba Saliu Adetunji and some of his chiefs, among whom were the then Otun Olubadan (now Olubadan), Lekan Balogun; Balogun of Ibadan land, Owolabi Olakulehin and others who are also members of the Olubadan-In-Council had been engaged in a conflict.
The crisis reached its peak in August 2017 when late Governor Ajimobi, presented staffs of office to about 21 chiefs who were promoted to the status of kings.
The crises between late Oba Adetunji, and his High chiefs was put to rest when Ajimobi's successor, Makinde withdrew their crowns as part of the condition to settle out of court.
The Court of Appeal in Ibadan had on August 23 last year, referred parties in the controversial coronation to a lower court.