EFCC arrests woman in possession of 18 voter cards in Kaduna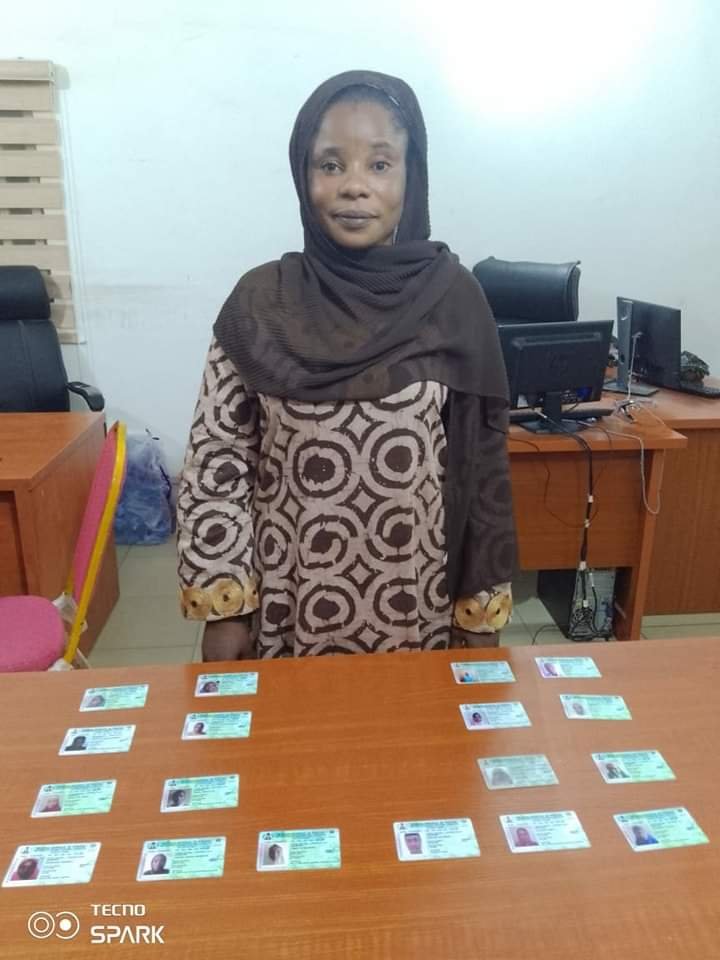 Operatives of the Economic and Financial Crime Commission , EFCC, have arrested a woman with 18 voter cards.
The Commission disclosed this in a statement on Saturday February 25, 2033.
According to the statement, the operatives arrested the woman in a sting operation at Badarwa area in Kaduna State.
The woman, one Maryam Mamman Alhaji, who is a member of the support group of one of the leading political parties, also had in her possession, a 17-page list containing names of eligible voters, their bank details and phone numbers as accredited under Badarwa/Malali Ward 01 and 08, Kaduna North Local Government Area of Kaduna State, the statement unveiled.
She was nabbed after undercover operatives pretended they had voter cards and were desperate to sell them.
She is currently being grilled by operatives of the Kaduna Zonal Command of the EFCC, with a view to unravelling other members of her syndicate whom she claimed are also collecting voters' cards and paying monies through PoS or direct bank transfers
The EFCC also arrested a man for alleged vote buying with N194,000 at Gidan Zakka polling unit, Goron Dutse area of Kano Municipal Local Government.
A party agent buying votes through bank transfers to voters was also arrested in Abaji FCT.
Similarly, the EFCC arrested one Dr. Cletus Tyokyaa, a lecturer with the Sarwuan Tarka University (formerly known as the University of Agriculture), Makurdi, Benue State.
Dr. Tyokyaa was arrested at the RCM Polling Unit in Daudu, Guma Local Government Area of the state with the sum of N306,700 in various denominations stashed in his car.
"Luck ran out on the suspect when he drove to the voting premises which was different from his polling unit and tried to make the run for it upon sighting operatives of the Commission," EFCC said.
It added, "When asked what his mission at the center was, Dr. Tyokyaa could not clearly state, thereby leading to arrest and the search of his car where the money was found in various denominations."
The suspect was released on bail after recording his statement in the office and the money seized, while investigation is ongoing.