NSCIA calls for financial, material aid to support victims of Syria-Turkey earthquakes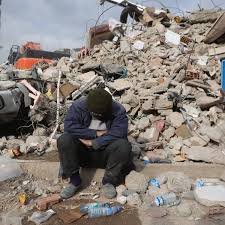 The Nigerian Supreme Council for Islamic Affairs (NSCIA) has appealed to Nigerians to support victims of Syria-Turkey earthquakes with financial and material aid.
The appeal is aimed at supporting the victims of the devastating 7.8 magnitude earthquake in South Turkey and North Syria which occured on Monday February 6, 2023 causing monumental destruction of lives and properties.
The Council made this known in a statement signed by its
Secretary-General, Prof. Is-haq Oloyede, on Tuesday February 14, 2023.
NSCIA appealed to well-meaning Nigerians to extend their generosity to the victims of the disasters.
Making allusion to the holy Qu'ran to appeal to the good people of Nigeria, the Council said, "Who is it that would loan Allah a goodly loan so He may multiply it for him many times over? And it is Allah who withholds and grants abundance, and to Him, you will be returned (Al-Baqarah, Q. 2:245)."
It added, "But he did not venture to scale the difficult steep. And what do you know what that difficult steep is? It is freeing someone's neck from slavery; or giving food on a day of hunger to an orphan near of kin; or to a destitute lying in dust; and, then besides this, he be one of those who believed, and enjoined upon one another steadfastness and enjoined upon one another compassion. These are the People of the Right Hand. (Al-Balad: 11-18)."
The Council noted that the Muslims are brothers to other Muslims.
"He does not wrong him, nor surrender him. Whoever fulfils the needs of his brother, Allah will fulfil his needs. Whoever relieves a Muslim from distress, Allah will relieve him from distress on the Day of Resurrection. Whoever helps ease one in difficulty, Allah will make it easy for him in this life and the Hereafter… (Sahih Muslim 2699)," NSCIA said in the statement.
It would be recalled that the NSCIA had promised in its release on Thursday February 9, 2023 to provide the details regarding the modalities for the collection of relief items and accredited bank accounts for cash donations.
Having finalized the modalities for the collections, the Council, under the leadership of its President General and Sultan of Sokoto, His Eminence, Alh. Muhammad Sa'ad Abubakar, passionately appeals to well-meaning Nigerians, most especially members of the Ummah to donate generously in cash and kind to the victims.
"Cash donations can be made into the two approved bank accounts hereunder while receipts or evidence of payment can be sent to the NSCIA for record purposes," the Council said.
1. Domiciliary Account (USD)
Name: TURKISH EMBASSY -HUMANITARIAN ASSIST
Account Number: 5072131687
Bank: Zenith Bank
2. Naira Account
Name: TURKISH EMBASSY ABUJA -HUMANITARIAN ASSISTANCE ACC (NGN)
Account Number: 1228160057
Bank: Zenith Bank
It also solicited assistance for the following items.
Tents for winter use
Gas heaters
Blankets
Sleeping bags
Portable toilets-baths
Generators
Similarly, in-kind donations of the above needed items can be delivered to the following locations.
1). Abuja: No. 46, Aminu Kano Crescent, Wuse 2, Abuja, FCT.
2). Lagos: ARMADA International Limited, No. 8, Solomon Agbontan Road (Aerodrome Road), Apapa, Lagos.
3). Kano: Centre for Islamic Civilisation and Interfaith Dialogue (CICID), Bayero University, Kano
The Council appealed that all items should be placed in clear bags and an itemized list of the contents in the bag should be provided.
"A copy of the list can be sent to the NSCIA via mesh@nscia.com.ng for record purposes. Brand new items are preferred to used ones due to health implications," it said.
It added that "80% of all donations (cash and kind) goes to Turkey while 20% goes to Syria."
It enjoined Muslims to leverage this opportunity to give Allah a goodly loan in line with the above-referenced verse of the Glorious Qur'an and to also foster brotherhood and solidarity according to the quoted tradition of Prophet Muhammad (SAW).