Military neutralizes over 200 bandits in Zamfara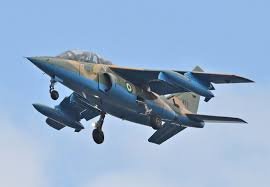 Over 200 armed bandits have been neutralised by the military in Gando Forest of Bukkuyum Local Government Area of Zamfara State.
A resident of the area identified as Mal. Garba Lawali Bukkuyum told Blueprint Weekend in a telephone interview that the operation began last Tuesday.
Garba said the bandits were intercepted by the military when they have rustled hundreds of cows from Zuggu communities of Kebbe local government area of Kebbi State.
According to him, the bandits were neutralised in three different encounters with the military.
"During the first encounter on Tuesday, over 100 bandits were killed, and on Wednesday when their people attempted to come and take their decease people, several of them was also been killed.
"On Thursday, they mobilised their people attempted to evacuate the remains of their people and the military reinforced to the area and killed hundreds of them on the spot," he stated.
"As I am talking to you now, hundreds of people were trooping to the scene of the incident including me and we discovered that over 200 armed bandits were neutralized by the military so far during the operation," he added.
He explained that over 60 motorcycles were recovered from the bandits during the operation by the military including their numerous arms and ammunition.
"As I am talking to you now, hundreds of cows were camped at Gummi local government agricultural project site and Daki Takwas village in Bukkuyum local government seized by the military during the operation," the resident further stated.
He commended the military for the efforts and urged communities of Gummi, Anka and Bukkuyum local government areas of Zamfara state to always cooperate with security agencies.
However, efforts to get response from the spokes person of Operation Hadarin Daji in Zamfara, Capt. Ibrahim, failed as at the time of filing the report.