Guinness World Record holder Jaan Roose captures perfect Lagos selfie, walks on tightrope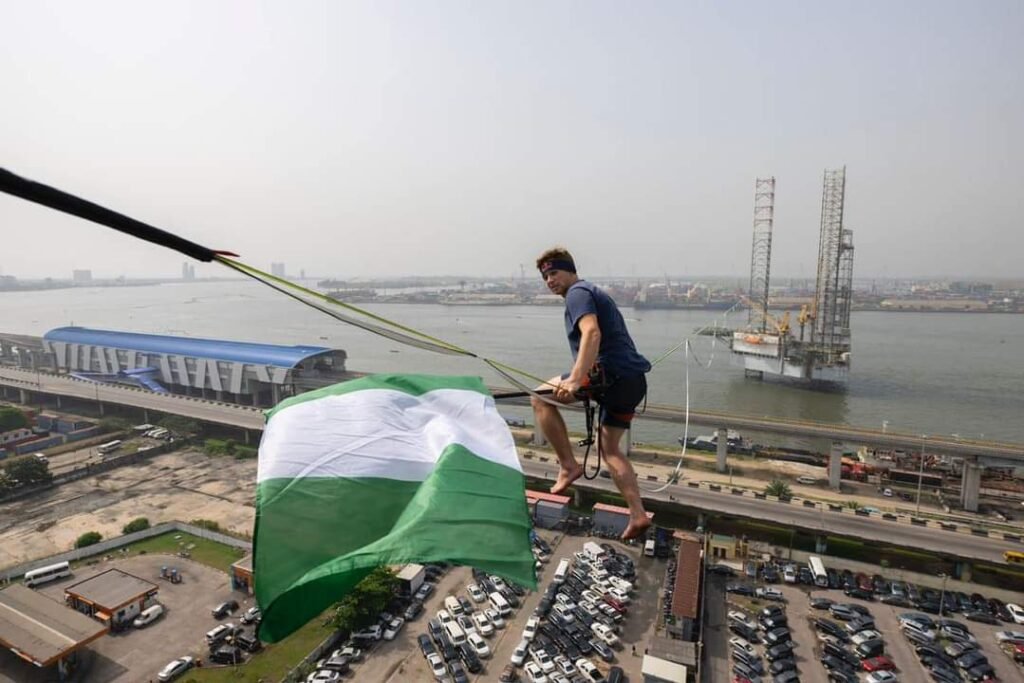 In a dazzling display of creativity and skill, Jaan Roose, the Guinness World Record holder, has achieved the extraordinary feat of capturing the Perfect Lagos Selfie while gracefully walking on a slackline from Sterling Towers to the Onome Rig in Lagos.
Lagos State Governor, Babajide Sanwo-Olu, commended Roose's remarkable achievement, emphasizing that Lagos stands as the epitome of creativity at its finest.
The breathtaking imagery captured during this daring endeavor perfectly encapsulates the vibrant spirit of the city.
Roose's expertise in slack-lining, a harmonious blend of balance training, recreation, and moving meditation, was on full display as he navigated the challenging journey through the sky.
The backdrop of the Blue Line Rail added an extra layer of beauty to the stunning skyline captured in the Perfect Lagos Selfie.
In a collaborative effort with the Lagos Safety Commission, this project not only showcases Roose's skill but also highlights the splendor of Lagos State.
Partnering with the Red Bull team, this venture marks another successful project following collaborations with the Lagos State Government through LASPARK.
Previous achievements include the renovation of Ndubuisi Kanu Park's basketball court and the creation of the Lagos Encourage Park in Ikoyi.
Jaan Roose's breathtaking achievement serves as a testament to the city's dynamic and innovative spirit, putting Lagos in the global spotlight for its unique blend of artistry, athleticism, and collaboration.