Fayemi, Sanwo-Olu, others bag doctorate degrees—Honoris Causa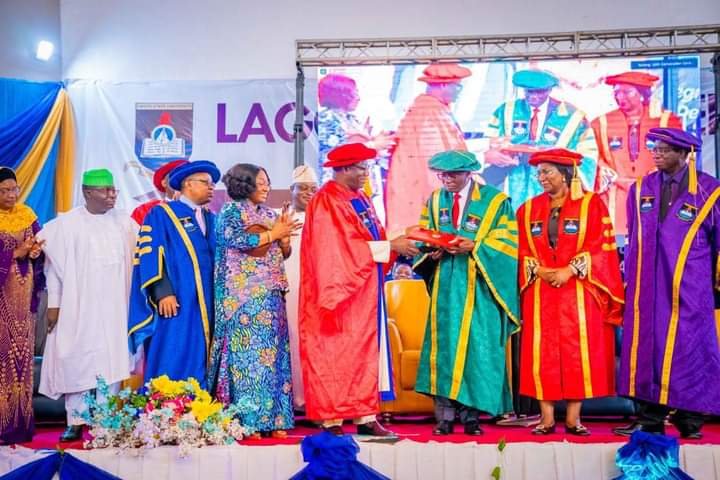 Former Ekiti Governor Kayode Fayemi has bagged an honorary doctorate degree (Honoris Causa) from Lagos State University, Ojo.
He was awarded at the 26th Convocation Ceremony of the university held on Thursday, June 23, 2023.
Speaking on the privilege, Fayemi expressed his heartfelt gratitude to the founder of the university and its management for awarding deserving individuals.
He said, "I am grateful for the honour bestowed upon me, alongside my family and fellow honorees, at Lagos State University's 40th anniversary celebration and 26th convocation ceremonies. I extend my thanks to the Visitor, the Chancellor, the Governing Council, and the management of this prestigious institution for this recognition."
Read Now: EFCC, AXA sensitize youth on cybercrime, emphasize devastated consequences
He added, "I commend the vision and foresight of the leaders, especially the late Alhaji Lateef Kayode Jakande, who established this university. Over the past forty years, LASU has proven skeptics wrong and emerged as one of the most sought-after institutions in the country. I commend the university's leadership for building upon this success.
"Leadership is a collective endeavour, and I am grateful for the wisdom and guidance of fellow leaders, both in and out of government. I also acknowledge the support of my fellow activists and the collaboration of my colleagues in Ekiti and the Federal Executive Council."
Other awardees are Dr Daniel Olukoya, Dr Ibijoke Sanwo-Olu, Mr Babajide Sanwo-Olu, Mr Babatunde Fashola, Oba Saheed Elegushi, and others. While the ex-governor Fayemi received his Doctor of Letters in Human Rights, National Integration and African Security Development.