2023: Lagos Muslim community endorses APC, supports Tinubu, Sanwo-Olu, other candidates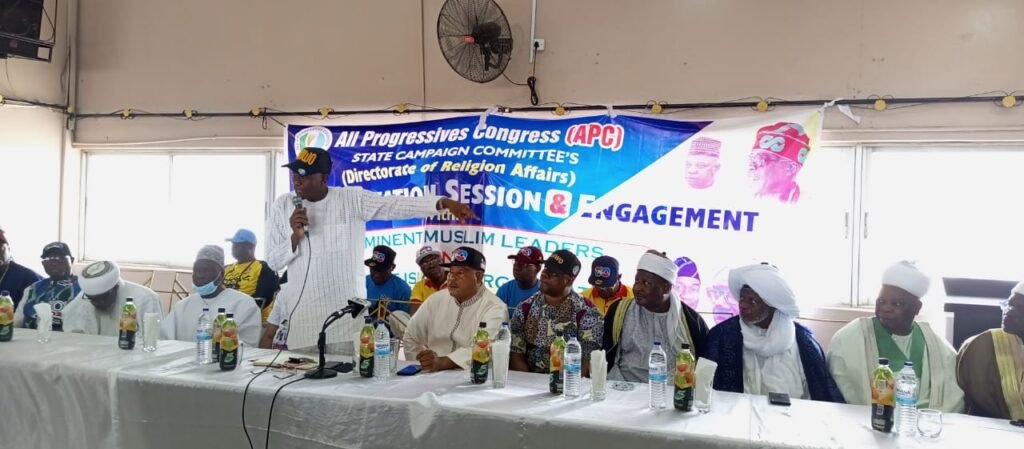 Muslim leaders in Lagos State have declared their support for the foremost presidential candidate in the country and revered National Leader of the ruling All Progressives Congress (APC) Asiwaju Bola Ahmed Tinubu, Lagos State Governor, Mr. Babajide Sanwo-Olu and other candidates of the ruling party.
This was made at the strategic meeting held with the Islamic leaders on Saturday by the Directorate of Religious Affairs of the party's Presidential Campaign Council headed by Chief Oyinlomo Danmole.
The meeting which was held on the premises of Lagos Television (LTV 8) came barely two weeks after a similar activity with Christian leaders in the state wherein the party got their diplomatic endorsement.
The religious leaders comprised the five divisional Imams in Lagos, Chief Imams from the 20 LGAs and 37 LCDAs across the state and heads of religious organizations among others.
The national Missioner of Ansar-Ud-Deen Society of Nigeria, Imam AbdulRahman Ahmad, who spoke on behalf of the Muslim leaders stated that they were particular about progressive and qualitative governance.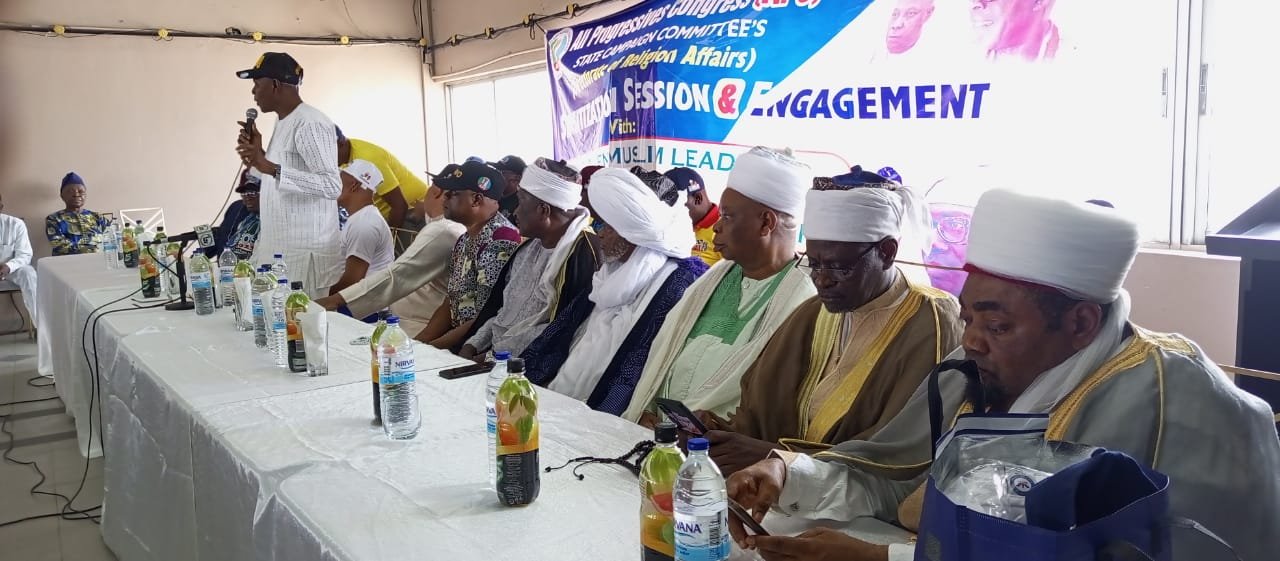 "This happens to be what a Tinubu presidency promises," he said.
He added that the religious leaders are decisive on whom to throw their weight behind already, emphasizing that they will vote their conscience and where the interest of the nation will be best served.
He said, "I want reassurance; once we get assurance of quality governance and representation, we will offer our votes, our support. This is simple. It is not a matter of emotive support, it is not a matter of whether we are going to vote or we do not know what we want. Not for us personally, not for our pockets but for Nigeria collectively. Whether we are Muslims or Christians or those who do not belong to any religion. That's the crux of the matter.
"Once we are reassured, once there's a renewal of the contract, we are all for it and we are promising that we will vote wisely; we will vote our conscience. We will vote for where our interest will be best served. We are seeing that this is the place. This is not a campaign.
"This is an interaction and that is what we are emphasizing. We know Asiwaju when he was governor of Lagos State and now he's stepping into something bigger and we need a bigger reassurance. A renewal of that."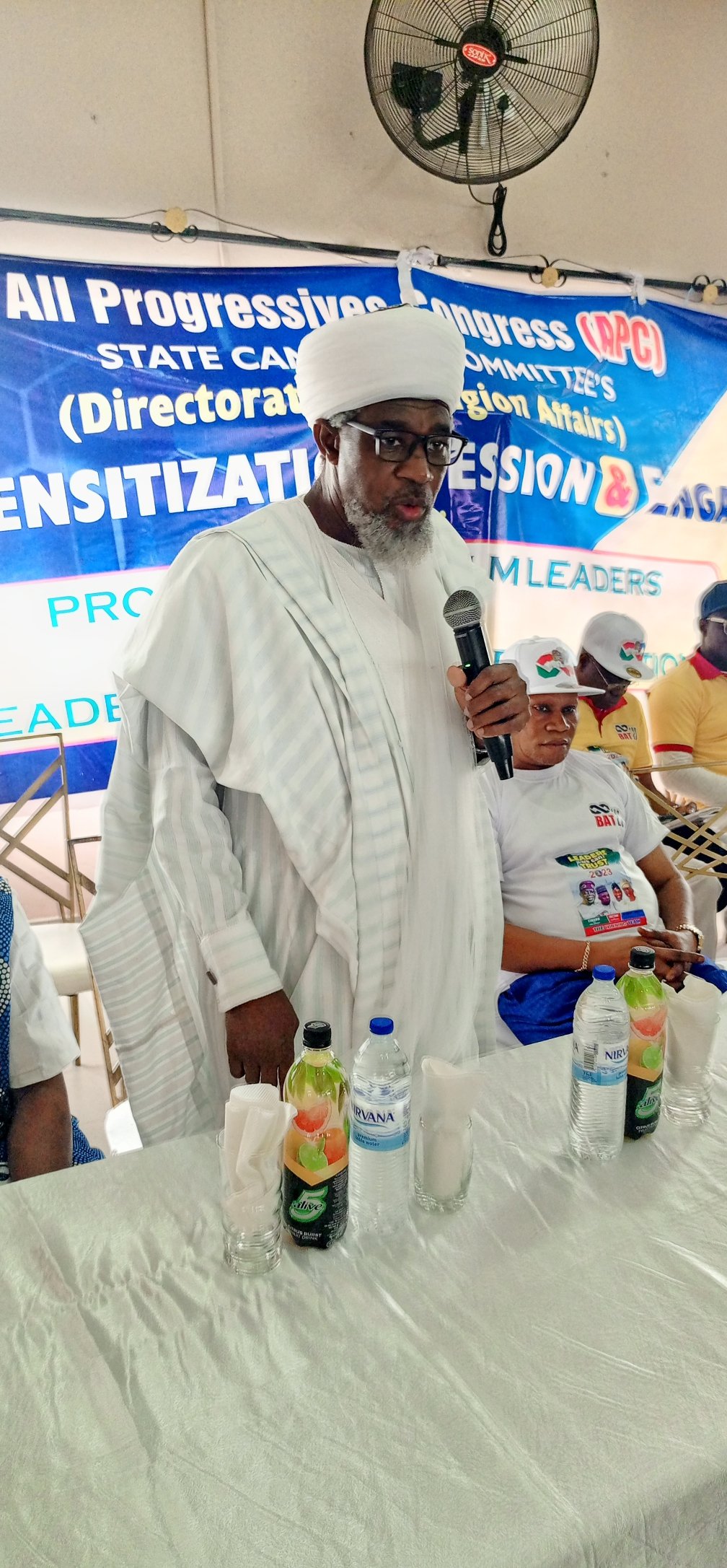 In his reaction to their demands, the Party Chairman, Pastor Cornelius Ojelabi, reassured that Tinubu's Renewed Hope Mantra is what the nation needs and promised that it is a social contract that will be honored.
Commenting on the engagement, Ojelabi said, "it is a welcome development. It's a way of encouraging them, sensitizing them to key into the role that is expected of them as a leader. Encouraging their followers to go out there and be participating and to also go all out to participate in the general election.
"As the chairman of the party, I am before you, soliciting your support for my political party. That's why I am here. I've listened to you. Engagement is a continuous process."
He, however, appreciated the religious scholars for their prayers for the state governor during the turbulent time of Covid-19, EndSARS.
He charged them to sustain their spiritual support as well as the awareness campaign on PVC Collection stressing that it is one of the ways to influence governance.
"They should continue to encourage their people to continue to take their possession and what's their possession, the PVC. Once you don't have the PVC there is no way you can participate in the election and once you don't participate in the election, how will you criticize when you have not contributed to it and the means where you can contribute is to vote for the candidate of your choice.
"We have turned it to them also, as leaders, when you're giving your sermon encourage their people to go out there to collect their PVC if want o contribute to the growth of this country," he said.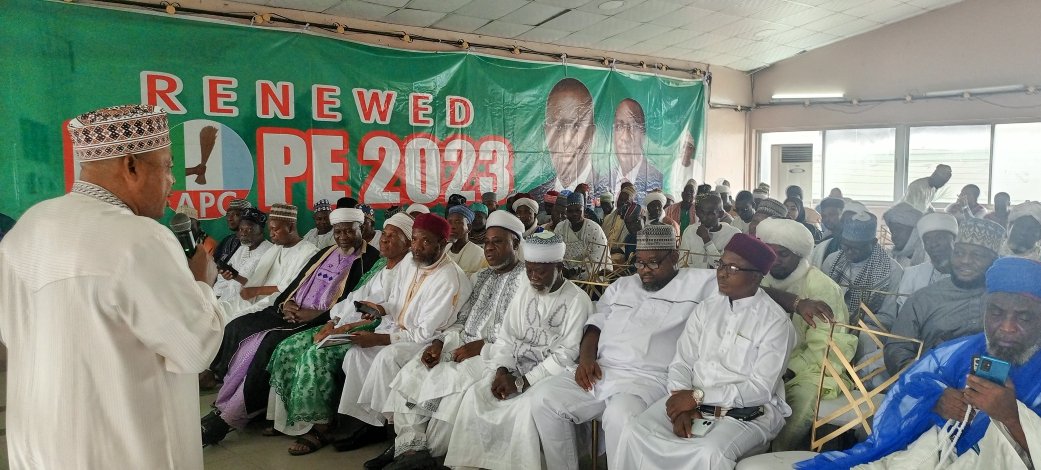 On his part, the Director General of the directorate, Chief Oyinlomo Danmole, expressed satisfaction with the outcome of the strategic meeting noting that it is one of the strategies the directorate is employing to help the party in delivering its 5-million-vote-target for Tinubu so as to guarantee a resounding victory for Sanwo-Olu and his running mate, Dr. Kadiri Obafemi Hamzat and other candidates of the party.
Other dignitaries in attendance included the Deputy Director of the directorate, Rev. Samuel Ogedengbge; Deputy Director (muslim) Hon. Folami Muslim, Deputy Director (West 1) Chief Tunde Aboyade, Assistant Director, Hon. Kayode Oseni, Chairman of Muslim Community, Professor T.O. Gbadamosi, Special Adviser to the Governor on Islamic Matters, Alh. Ahmad Abdullahi Jebe among others.